Rebecca Ferguson says she'll perform at Trump inauguration if she can sing "Strange Fruit"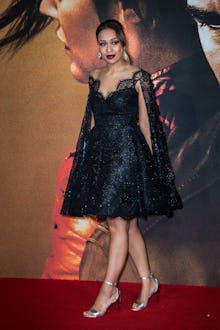 There's at least one recording artist open to performing at President-elect Donald Trump's inauguration. Singer Rebecca Ferguson said she has been asked to perform Jan. 20, and she's willing if she can sing the classic song "Strange Fruit": 
I've been asked and this is my answer. If you allow me to sing "strange fruit" a song that has huge historical importance, a song that was blacklisted in the United States for being too controversial. A song that speaks to all the disregarded and down trodden black people in the United States. A song that is a reminder of how love is the only thing that will conquer all the hatred in this world, then I will graciously accept your invitation and see you in Washington. 
"Strange Fruit" is a song first recorded by Billie Holiday in 1939. The song, known as a protest anthem against the pervasive racism in the U.S., was written by Abel Meeropol, who was reportedly moved to write the haunting lyrics after seeing a photo of a lynching, according to NPR.
Some of the lyrics to the song starkly depict the lynching of a black man:
Southern trees bear a strange fruit/ Blood on the leaves and blood at the root/ Black body swinging in the Southern breeze/ Strange fruit hanging from the poplar trees.
Considering the incoming Trump administration has been accused of racism on a number of occasions, and known racist and alt-right agitator Steve Bannon holds a key position as the president-elect's chief strategist, "Strange Fruit" would draw a stark contrast to many of the ideals espoused during the 2016 campaign. 
British-born Ferguson was a runner-up on the X Factor UK in 2010. 
So far, Trump's inauguration ceremony has been rocked by controversy, with many artists refusing to perform.