In 2016, Drake became more businessman than artist. But 2017 doesn't have to be that way.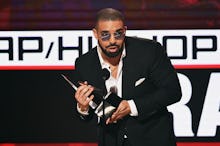 In 2016, Drake achieved what he long said he would: complete, undeniable control of mainstream hip-hop. 
He came from the bottom (i.e. Degrassi) and powered through the shade that followed his being rap's sad boy, the rapper who would rather sing about drunk dialing and reminiscing than posturing like the OGs before him. 
In 2016, the tables turned: Drake's special brand of stylish despondency and comfortable disillusionment swept the charts and allowed him to finally say and mean he'll die a "legend." But somehow it didn't feel like the joyous celebration it should've been.
He didn't break nearly ever record in the books by out-rapping his rivals, or by achieving some breathtaking artistic vision. He did it with Views, an album more frequently described as "claustrophobic" and "utterly wearying," rather than masterful in the critical sphere. More than a crowning achievement, it felt like a "returning to the peak CD era of the bloated album," as Slate's Chris Molanphy wrote.
Views was an album full of shrewd business decisions, rather than artistic ones. The rest of his year played out similarly, and 2017 will likely do the same if he doesn't change course. 
Before anything else, Views was tailored to break records and snake radio plays, making it a unique kind of artistic affront. All the production is super clean, the hooks carefully chosen, if uninspired at times, with "Fire & Desire" being the most obvious culprit. But there's an obvious reason why Drake's Views clocked in at 20 tracks and an hour and 20 minutes long: The previous record for most songs simultaneously appearing on the Billboard charts was 17. 
Guess what one of the first chart records Drake broke? 
"Hotline Bling," the album's afterthought addition, was essentially a rip of D.R.A.M.'s viral hit "Cha Cha," with some of its quirks shaved down for the FM airwaves. One could argue "Controlla," which once featured Jamaican dancehall artist Popcaan, is equal part homage and exploitation of today's trendy dancehall sound for Views' gain.
Drake's made a habit of this clever cover style of biting, or borrowing styles, and with each he's looked more like a executive putting a down payment on a new acquisition rather than an artist looking to lift the culture. He's been on it since for years, but in 2016 Drake institutionalized it.
The first big example came back in 2014 with iLoveMakonnen's "Tuesday," remixing the track and essentially co-opting its woozy ethereal vibe. Fast forward to 2016 and Makonnen has been tossed to the shoulder, throwing disses at Drake's back as he looks for greener pastures.
"Culture vulture" were the words Earl Sweatshirt used to describe it in 2015 after Drake "found" Kodak Black, which is the rapper's habit of identifying and acquiring new talents. "I still feel like Drake overall statement isn't 'check out this new shit I heard' it's always self-serving," Sweatshirt wrote.
Black to his eternal credit saw it coming: "If you're trying to show me that you fuck with me, call me," Black said in a 2016 BET special. "Throw me on your album so I can get me some royalties." That has yet to happen — though 21 Savage may be Drake's next real target. 
Drake bought the "it's a knife" rapper a Ferrari for a recent birthday.
Besides continuing to look for hot new styles among the youth, Drake also began to set his sights on bigger corporate mergers in 2016. He linked up with Taylor Swift, gunning to get himself a placement on her next sure-to-be-blockbuster album. 
Additionally, industry insiders on to Drake's game have seen his recent public courtship of Jennifer Lopez as little more than a ploy to sell new music.
Watching the loner with a cell phone full of exes navigate a world out to shade him just doesn't feel fun anymore. It doesn't feel personal. Kanye West's The Life of Pablo, similar to Views, drew from scores of young collaborators and took risks. It felt raw and made Drake's album feel even more vacuum-packaged.
But it doesn't have to continue this way. 
Drake's 2017 will hinge in large part on More Life, a "playlist project" that will include contributions from other members of the OVO family. The artist has already set it up to be a more casual affair, something designed to "celebrate life," as he said introducing the project. 
It could mark Drake's return to making music to connect with fans rather than dissolve them into digits in OVO's ledgers. But that will only happen if Drake realizes he's facing a different kind of doubter now — former fans who don't care he's not hard enough, but worry he's gotten too corporate to remember what matters.