7 things to know about Robert Lighthizer, Trump's pick for trade rep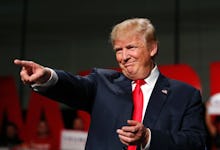 President-elect Donald Trump has added another member to his group of advisers, this one specializing in an area he has made a central part of his campaign: trade. Robert Lighthizer, a lawyer with some serious experience in government, will be the country's trade representative when the Trump administration moves into the White House on Jan. 20. 
Here's what to know about the man who could help carry out Trump's key promises when it comes to economic policy.
1. Lighthizer has served in a similar position before
Unlike some of the neophytes who Trump is putting into major positions of power in Washington, D.C., Lighthizer has government chops to fall back on. He served as deputy trade representative during the Reagan administration.
2. His private sector work has also focused on trade
Even when he hasn't been working for the federal government, Lighthizer has spent much of his professional life working on trade-related issues. He is a partner in the Washington, D.C., office of the major international law firm Skadden, and his practice has been centered on issues of trade. He represented and advised many big U.S. corporations.
3. He is a China hawk, just like Trump
One of the biggest trade issues Trump discussed on the campaign trail was the problem of unfair trade practices from China. Lighthizer has similar thoughts, accusing China of trying to "rig trade," according to Bloomberg News.
4. Lighthizer isn't opposed to tariffs
Trump challenged conservative orthodoxy on a number of issues, but perhaps the most glaring were his opinions on free trade. Lighthizer, like Trump, isn't opposed to using tariffs to advance the U.S. economic agenda. In his private work, Lighthizer has argued for tariffs punishing foreign companies, the Wall Street Journal reported.
5. He's been a Trump booster for some time
Lighthizer is a longtime fan of the president-elect, defending his conservative bona fides at a time when many Republicans weren't yet sold. In 2011, when Trump was considering a run to unseat Barack Obama, Lighthizer wrote an op-ed for the Washington Times promising that Trump is "no liberal" when it comes to issues of trade.
6. Lighthizer also worked in the Senate
Before he served in the Reagan administration, Lighthizer had another government job, serving as chief of staff for the Senate Committee on Finance.
7. He's been part of the GOP establishment
In addition, Lighthizer was the national treasurer for Bob Dole's 1996 Republican presidential campaign. His attachment to past GOP campaigns and party history may go against "draining the swamp," as Trump is fond of saying, but Lighthizer's positions on trade may make up for that in the minds of Trump supporters.