Who is 'Bachelor' contestant Liz Sandoz? Jade Tolbert tweets about Nick Viall hookup.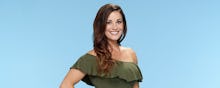 The Bachelor contestant Liz Sandoz has a leg up on the other women competing for Nick Viall's heart. On Monday's episode, the 29-year-old doula from Las Vegas revealed that she previously met Nick at a wedding — Bachelor in Paradise alum Jade and Tanner Tolbert's wedding, to be exact. And Liz and Nick didn't just exchange pleasantries at the event. Liz admitted to the cameras during the season 21 premiere that she slept with Nick the night of the wedding. Jade took to Twitter to tweet about her maid of honor and the hookup.
Liz's arrival came as a surprise to Nick. The 36-year-old Bachelor star recognized Liz when she exited the limo, but wasn't 100% sure it was her until he spoke with host Chris Harrison. Liz and Nick had time later on in the evening to discuss their history, and, unfortunately for Liz, it didn't exactly go well. Nick was uncertain about the contestant because she had refused to give Nick her number at the wedding. He told her that she had had nine months to contact him, something that left Liz concerned about her future on the series.
Nick ultimately decided to give Liz a second chance, handing her the final rose of the premiere. The twist is that none of the other women know about their history yet. She'll continue on to week two, but will she make it to the final two?
Mic has ongoing Bachelor coverage. You can follow our main Bachelor hub here.