In surprise vote, House Republicans vote to dismantle Office of Congressional Ethics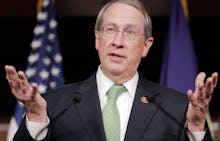 Late Monday, House Republicans voted to effectively gut the Office of Congressional Ethics, overstepping the wishes of Republican leaders, the New York Times reported. The surprise vote came the night before the first session of Congress in the new year — and before President-elect Donald Trump enters the White House with his ever-growing list of conflicts of interest. 
The investigative, nonpartisan office was established in 2008 — after three members of Congress went to jail for corruption, the New York Times notes — to oversee ethics in the House and to "increase accountability and transparency."
If successful, the measure would limit the power of the OCE and "give lawmakers more control over internal inquiries," according to the New York Times. The office would have to get permission from the House's ethics committee before releasing any findings from an investigation to the public, as outlined in the announcement of the vote. Anonymous complaints and tips about possible corruption would also no longer be accepted. The name would also be changed to the Office of Congressional Complaint Review.
"The O.C.E. has a serious and important role in the House, and this amendment does nothing to impede their work," Rep. Robert Goodlatte, who is chair of the House Judiciary Committee, said in a statement. 
Other Republicans and members of Congress, however, do not see the measure in the same light. 
"Republicans claim they want to 'drain the swamp,' but the night before the new Congress gets sworn in, the House GOP has eliminated the only independent ethics oversight of their actions," House Minority Leader Nancy Pelosi said in a statement, according to the New York Times. "Evidently, ethics are the first casualty of the new Republican Congress."
The move to gut the OCE comes at an especially contentious time in Washington, D.C.; Republicans have gained controlled of both houses of Congress, and President-elect Trump has done little to soothe the public's concerns over his business conflicts. 
Congress will reconvene on Tuesday.