'Sherlock' season 4: What will happen in episode 2? Trailer, synopsis and more.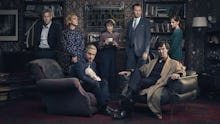 Nearly three years after James Moriarty's ominous question at the end of season three, Sherlock has returned for its highly anticipated fourth season. The first episode, titled "The Six Thatchers," picked up shortly after Sherlock returned to London to deal with Moriarty, though he would not rush into a game that had not yet started. As he stated to Mycroft and other members of British intelligence, "I always know when the game is on... because I love it!" 
According to Deadline, the first episode of the season was watched by a whopping 8.1 million people in the United Kingdom. Clearly, anticipation is high, so here is what you need to know about season four, episode two of Sherlock.
Where to watch Sherlock season four, episode two
Episode two of Sherlock's fourth season, titled "The Lying Detective," will air on PBS Sunday, Jan. 8 at 9 p.m Eastern as part of the network's Masterpiece series. For those that cannot watch the episode live, it will be available on PBS' website shortly after the episode airs. You can also purchase episodes of Sherlock on Google Play, iTunes and Amazon. 
Sherlock season four, episode two synopsis
It appears that Sherlock and Watson may face one of their greatest adversaries yet in "The Lying Detective." From PBS, the synopsis for the episode reads as follows: 
In episode two 'Sherlock,' season four, Sherlock faces perhaps the most chilling enemy of his long career: the powerful and seemingly unassailable Culverton Smith, a man with a very dark secret indeed.
Culverton Smith will be played by Captain America: The First Avenger's Toby Jones, and promises to be a worthy, and diabolical, antagonist for London's greatest detective. 
"The Lying Detective" trailer
You can check out the trailer for season four, episode two of Sherlock, "The Lying Detective," below:
What happened in "The Six Thatchers"? 
While there was certainly a game to play in "The Six Thatchers," Sherlock's adversary was not Moriarty — at least, he does not appear to have played a role. While investigating how a father and mother's son could have died a week earlier in London, despite sending a video from Tibet around the same time, Sherlock came across a more interesting mystery — well, for him. 
(Editor's note: Spoilers ahead for season four, episode one of Sherlock.)
After a series of busts of Margaret Thatcher are destroyed — the first at the grieving family's home — Sherlock is able to predict the final movement of the vandal. As it turns out, though, the series of crimes had nothing to do with Moriarty, or the black pearl of the Borgias (which had been teased), but rather was tied to Mary Watson's past. 
The realization that Mary's life was in danger led to her fleeing London, only to be tracked down by Sherlock and John and finally confronting the cause of all her problems: a career secretary in British intelligence. During the final confrontation, Mary sacrificed her life and jumped in front of a bullet intended for Sherlock, eventually dying in her husband John Watson's arms. 
How John and Sherlock's relationship is affected going forward will be one of the more interesting developments this season.