'Celebrity Apprentice' 2017: Who will be terminated in episode 3?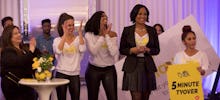 The New Celebrity Apprentice premiered Monday on NBC with back-to-back episodes of its latest — and very different — season. Former California Gov. Arnold Schwarzenegger took over hosting duties from President-elect Donald Trump, there's a new woman at the front desk and, perhaps most significantly, a new catchphrase: "You're terminated."
With two contestants terminated from the boardroom in episodes one and two  — Carrie Keagan and Carnie Wilson — we can't help but wonder who will be sent packing next when episode three airs Monday.
Who's at risk of being terminated in episode 3?
In the premiere episode, the cast separated into two teams: the men named themselves "Arete," and the women "Prima." Schwarzenegger recruited Tyra Banks and his nephew Patrick M. Knapp Schwarzenegger as advisers, and the two teams were tasked with coming up with a presentation for Banks' new makeup line. The men, who sported makeup — as you can see below — ended up winning, and Prima team members Keagan, Porsha Williams and Nicole "Snooki" Polizzi were in the bottom three.
Although Keagan ended up going home, the weakest link of the series so far is undoubtedly Polizzi. 
Best known for starring on MTV's Jersey Shore, Polizzi was in the bottom three not only in the first episode but also the second when the women lost another challenge. When she was in the bottom three the first time, Polizzi didn't make any excuses, and believed she was in that position because she didn't speak up enough. Nevertheless, the second time around, it appears as though her low standing may have been undeserved. 
In the second episode, the teams were tasked with creating a music video for Trident gum. Wilson, the team leader when the women once again faltered, was put in the bottom three alongside Lisa Leslie — who ended up filming their teams whole commercial sideways. Schwarzenegger thought Kyle Richards should have been in the bottom instead of Polizzi because he loathed Richards' idea. However, Wilson chose Polizzi instead.
What could happen in episode 3?
Here's the synopsis of The New Celebrity Apprentice's next episode, according to TV Guide: 
The celebrities must create a live health segment showcasing a grape juice. Later, the teams must produce and edit viral videos for a new King's Hawaiian product. Appearing: chef Rocco DiSpirito and Justine "iJustine" Ezarik.
If the women do poorly once again next episode, and Polizzi is unable to contribute to her team (once again), it seems like she's the one most at risk. 
The Celebrity Apprentice airs 8 p.m. Eastern on Monday, Jan. 9 on NBC.
Mic has ongoing Celebrity Apprentice coverage. You can follow our main Celebrity Apprentice hub here.