Soulja Boy and Chris Brown start an absurd social media beef over an Instagram like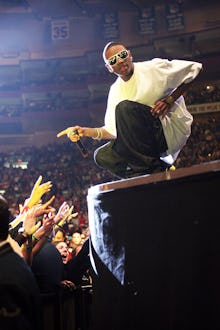 Soulja Boy and Chris Brown seem to be able to make beef out of just about anything, and they've started 2017 doing just that. 
Monday, rapper and producer Soulja Boy shared on Twitter that Chris Brown had taken offense to him liking an Instagram photo of Brown's ex-girlfriend Karrueche Tran. Soulja said Brown called to tell him he was pissed and wanted to fight the "Crank That" singer. But his threats drew nothing but crying laughing emojis.
And taunts, a hell of a lot of taunting.
It played out like one of one of Future's "Da Fam On Da Gram" Instagram mob sketches, but all in real life. Soulja Boy's taunts continued throughout the night, with Soulja directing a few kisses Karrueche's way a little after midnight.
Karrueche has yet to respond to the brewing war over her Instagram mentions. But early Tuesday morning, Brown started firing back, calling Soulja Boy a "snitch" and "Officer Soulja."
Of course, Soulja Boy hit him back with a rant of his own: "You think you hard because you hit Rihanna," Soulja said in the rant, referring to Brown's 2009 assault charge. "Stop snorting so much coke."
As fans pointed out, this scrap is the latest in a long line of beefs that Soulja Boy has diligently been working to start. He came for Lil Yachty in October 2016, after Yachty texted Soulja to talk about an Instagram he'd shared of India Love. In December, Soujla Boy also released a diss track aiming at Quavo of Migos, just days after banning Shia LaBeouf from ever coming to Atlanta.
Soulja Boy has also been making headlines lately for the still viral Soulja Boy Challenge, which has seen everyone from Joe Budden to Lil Yachty to actor Mike Epps mocking a recent incident of the rapper's over-the-top storytelling from a VladTV interview.
Perhaps the next one to give the challenge a shot will be Chris Brown — either that or he'll find other creative ways to continue filling his Instagram with taunts for one of hip-hop's prickliest trolls.