Fashion brand Missguided comes under fire for what some see as trivializing mental illness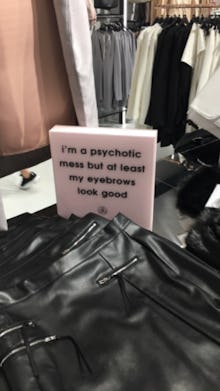 UK-based retailer Missguided, which bills itself as "an empowering, bold and forward thinking online fashion brand," has come under fire for what many perceive as trivializing mental illness.
Back in November, the burgeoning brand, a go-to for celebs including Emily Ratajkowski and Perrie Edwards, opened its first 20,000 square foot flagship location in Stratford, UK. 
The celebration quickly turned sour when a Twitter user using the moniker Sirius Black took a screenshot of a store placard that read: "I'm a psychotic mess but at least my eyebrows look good." 
"So mental health is okay, as long as beauty trends continue to exist?" Black wrote.
In the days leading up to the new year, the sign received renewed scrutiny when a screenshot of a similar sign went viral thanks to Twitter user Hollie.
Others began adding their voices to the mix.
One reply even highlighted an even graver reality, that advertising like this is not entirely uncommon.
A quick google of the phrase "cute but pyscho" produces a top search result for an Etsy shop featuring shirts, hats, socks, mugs, even lingerie emblazoned with the phrase.
"Using mental illness as a punchline reinforces the idea that it is okay to treat people with mental illnesses or any mental disability with mockery or pity, instead of as real people who deserve respect for self-determination and bodily autonomy," disability justice advocate Lydia X. Z. Brown said in an interview. "By itself, the sign is just another everyday example of casual ableism, but it is a thread in a much larger social fabric of sobering statistics about abuse and violence targeting people with mental illnesses and any mental disability."
According to Metro U.K., in response to the controversy, Missguided offered Hollie the following statement:
I'm really sorry that the "I'm a psychotic mess but at least my eyebrows look good" sign in our Westfield store caused offense. That definitely wasn't our intention. Our store design is carefully considered by a dedicated team who will assess the appropriateness of signage, bearing in mind our target audience and those visiting the store. We do take all feedback very seriously and I have passed this to our store team for review.
Not included in that reply: Any mention of the sign being updated or removed. (Mic has reached out to Missguided for an update.)
There have been instances of fashion addressing mental health in a more nuanced and thought-invoking way. 
In February 2016, Pyer Moss designer Kerby Jean-Raymond found a way to incorporate a discussion of mental health in the black community into his autumn/winter 2016 runway show both through signs and the clothing itself.
"All of it kind of told a story," Erkyah Badu, who styled the collection, said at the time. 
Normal bouts of depression are very common with all of us. And we don't really discuss or talk about it. We just kind of numb it some kind of way. I haven't personally had a clinical depression, but I mean, it's a shitty world sometimes. Especially if we don't put down the things that numb us. And really start to have a dialogue. A conversation about how we really feel about things.
So while Missguided's attempt at humor may have fallen flat, fashion on the whole has not been entirely ignorant to mental health. Hopefully designers like Jean-Raymond can help inspire mass production brands to be more thoughtful in their approach to tackling subjects like mental health.