Where is Coachella 2017? Location, days and what to know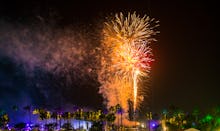 Many details of the 2017 Coachella Valley Music and Arts Festival are still being kept under wraps, but the dates have been confirmed. While the festival is known for its music, Coachella has also become a hub for art installations and fashion (not to mention some unfortunate cultural appropriation), as well as celebrity-studded parties.
2017 Coachella weekends
This year, Coachella will once again be taking place over the course of two weekends at the Empire Polo Club in Indio, California, just as it has since 1999 — save for 2000 when the festival skipped a year. (And yes, the Empire Polo Club is a real polo club that hosts actual sporting events.) The first Coachella 2017 weekend will include April 14, 15 and 16, while the second Coachella 2017 weekend will take place over April 21, 22 and 23. 
The 2017 lineup
The lineup for Coachella 2017 was announced on Tuesday. Beyoncé, Radiohead and Kendrick Lamar are headliners. 
2017 ticket sales
Though advance sales for the ticket payment plan passed in June and some have already sold out, other passes are still available. General admission tickets for both weekends go on sale on Wednesday, Jan. 4 at 11 p.m. Pacific. You can also still book a teepee for two, which comes with festival passes. The teepee will run you $2,398 for two GA passes and $3,400 for two VIP passes. Because there are so many packages, you should review all pass options and then the step-by-step guide on how to purchase your pass before making your move.
You can keep abreast of Coachella news and buy your tickets at Coachella.com.
Tuesday, Jan. 3, 2:14 p.m.: This story has been updated.