Ariana Grande 'Final Fantasy' Character: 'Brave Exvius' mobile game reveals future update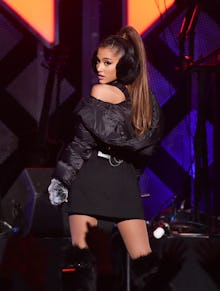 Ariana Grande, Hollywood's favorite Dangerous Woman, is heading to the Final Fantasy universe.
The pop singer revealed the news on her Instagram account Monday, sharing that she'll soon appear as a guest character in the free-to-play RPG mobile game Final Fantasy: Brave Exvius, available on iOS and Android. 
There's no word yet on a release date or what role her character will play, but Grande did share a sneak peek of what her character, DW, will look like. We'll see Grande's trademark bunny ears, high ponytail and latex outfit. 
Although details are scarce, it's clear the pop star is excited for her entry into the world of video games. "I'm SO so excited to finally share that I'll be featured in FINAL FANTASY BRAVE EXVIUS *crying*," she wrote.
Here's a look at Grande hard at work on the game, and her virtual self in action. 
Brave Exvius debuted in Japan in 2015. It was later made available in the United States in 2016. Since then, it has racked up more than 8 million downloads around the world.