Trump's Top Donors: 11 donors who gave millions to the Trump campaign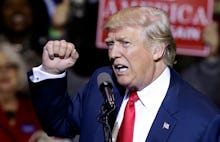 On Jan. 20, Donald Trump will officially assume his role as the 45th president of the United States. But despite his claims that he would be self-funded and completely independent, it was ultimately a handful of extremely wealthy, high-profile donors giving huge sums of money that helped propel the GOP nominee to the White House. Here is a look at some of the big-money donors to thank (or blame, depending on your political persuasion) for Trump's ascendancy, according to research group OpenSecrets.org.
Robert Mercer
Robert Mercer is one of the founders of Renaissance Technologies, a hedge fund based in New York. He originally gave $13.5 million to a super PAC dedicated to electing Trump's rival Ted Cruz, but when Cruz dropped out, all of that money shifted toward Trump. Mercer is also a major investor in Breitbart, the conservative news site that supported Trump throughout the primaries and the general election.
Linda McMahon
The former World Wrestling Entertainment executive and wife of WWE figurehead Vince McMahon donated $7 million to groups supporting Trump. It seems her loyalty has been rewarded: In December, Trump tapped her to join his cabinet as head of the Small Business Administration.
Geoffrey Palmer
The developer from Los Angeles is sort of a West Coast version of Trump — a housing developer who made a lot of money despite angering communities and inviting a lot of lawsuits. He donated over $5 million to get Trump elected.
Ronald Cameron
Despite Hillary Clinton's connection to Arkansas, this Natural State resident and Mountaire Corp. leader spent more than $2 million to elect her opponent.
Robert McNair
If you're a left-leaning football fan in the Houston area, you may have a problem. Robert McNair, the owner of the NFL's Houston Texans, donated $2 million to help Trump and predicts big things for the economy in the wake of the president-elect's victory.
Bernard Marcus
The retired Home Depot co-founder is a longtime Republican megadonor, but the exact amount he gave to Trump is still up for debate. According to OpenSecrets, Bernard Marcus donated $2 million to help elect Trump — but he may have given even more: The Center for Public Integrity estimates his donations to be closer to $7 million.
Stephen Feinberg
Stephen Feinberg, the CEO of Cerberus Capital Management, donated nearly $1.5 million to Trump. He also served as one of Trump's economic advisers.
Peter Zieve
Peter Zieve is the founder of aerospace company Electroimpact Inc. He's courted controversy in the past for sending out Islamophobic postcards (for which he later apologized). He donated just over $1 million to Trump.
Walter Buckley
The founder of Buckley Muething Capital Management gave $1 million to Trump despite some misgivings about the candidate's controversial statements regarding Arizona Sen. John McCain's military service, according to the New York Times. 
Peter Thiel
Peter Thiel, a well-known libertarian and tech sector investor, gave more than $1 million to support Trump's candidacy. Thiel, who is openly gay, gave a speech at the Republican National Convention calling on the party to give up social issues in favor of fiscal policy.
Cherna Moskowitz
Cherna Moskowitz is the widow of Irving Moskowitz, a longtime Republican donor and, like Trump, a casino magnate and critic of President Barack Obama. She donated $1 million.