January 2017 Premiere Dates: When will your favorite TV shows return?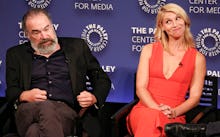 The new year has begun, and with it the return of prime-time television. Sherlock Holmes and the O'Neal family may have taken time off for the holidays, but they are now back in residence in the living room. While some shows, including Sherlock, The Bachelor and The New Celebrity Apprentice, have gotten an early start on the season, others, including the lovable slackers on It's Always Sunny in Philadelphia and the too-cool residents of Portlandia, are just kicking off. 
Along with reality TV show Hell's Kitchen and longtime favorite Law & Order: SVU,the complicated life of Olivia Pope on Scandal, a show whose ratings have recently declined, will return. The book-to-TV adaptation of Lemony Snicket's A Series of Unfortunate Events will premiere on Netflix.  
Check out all the midseason and season premiere dates for January 2017. (All times Eastern.)
Tuesday, Jan. 3
New Girl — 8 p.m. on Fox
Wednesday, Jan. 4
Blindspot — 8 p.m. on NBC
Modern Family — 9 p.m. on ABC
Black-ish — 9:30 p.m. on ABC
Thursday, Jan. 5
Superstore — 8 p.m. on NBC
Friday, Jan. 6
One Day at a Time — Netflix
Tuesday, Jan. 10
This Is Us — 9 p.m. on NBC
Wednesday, Jan. 11
Schitt's Creek — 8 p.m on Pop
Thursday, Jan. 12
Mad Families — Crackle
Friday, Jan. 13
Lemony Snicket's A Series of Unfortunate Events — Netflix
Sunday, Jan. 15
Homeland — 9 p.m. on Showtime
Tuesday, Jan. 17
No Tomorrow — 9 p.m. on The CW
Wednesday, Jan. 18
Six — 10 p.m. on History
Thursday, Jan. 19
Friday, Jan. 20
Frontier — Netflix
Sunday, Jan. 22
Mercy Street — 8 p.m. on PBS
Wednesday, Jan. 25
The Path — Hulu
Wednesday, Jan. 25
Hunted — 8 p.m. on CBS
Thursday, Jan. 26
Riverdale — 9 p.m. on The CW
Sunday, Jan. 29
Black Sails — 9 p.m. on Starz
Monday, Jan. 30
Gotham — 8 p.m. on Fox
Tuesday, Jan. 31
The Fosters — 8 p.m. on Freeform