House GOP won't nix ethics watchdog after loud public outcry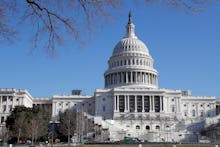 After coming under intense negative scrutiny, House Republicans abandoned a plan on Tuesday to gut the Office of Congressional Ethics, an independent oversight group tasked with investigating potential ethical breeches by members of Congress.
The House GOP had met in private and without notice Monday night to try and strip the OCE of most of its power.
That led Democrats and Republicans alike to call House Republicans out for attempting to hide from watchdogs looking to weed out corruption from Congress.
Even President-elect Donald Trump was against the OCE changes, saying that changing an independent ethics watchdog shouldn't have been Congress' first priority, let alone first move under the newly sworn in House. 
Had the GOP gone through with its plan to strip the OCE of its power, it could have provided Democrats with a strong campaign message going into the 2018 midterms.
"I assume [that with] politicians being what they are ... there will be ethics questions and I think it will give Democrats a weapon," Stu Rothenberg, a non-partisan political analyst, said in an interview about the proposed changes to OCE.
Republican groups warned their party of that reality, including Judicial Watch — the conservative group that led the legal challenge against Hillary Clinton's use of a private email server — which called the House GOP's move "shameful."
"The full House should seriously consider whether it wants to bear the brunt of public outrage and go through with the rule change this afternoon," Judicial Watch president Tom Fitton said in a statement.
Democrats, for their part, had called Republicans out on the attempt to dismantle the ethics watchdog.
"One must assume that this brazen assault on transparency and good government is aimed at letting Republicans engage in the same corrosive and unethical behavior that led to the creation of the Office of Congressional Ethics in the first place," Tyler Law, a spokesman for the Democratic Congressional Campaign Committee, which seeks to get Democrats elected to the House, said in a statement. "This is a shameless way to start the new Congress and every House Republican should immediately voice public opposition — and ultimately vote against — these shady rule changes."
Ultimately, the pressure from all sides led the House GOP to drop the proposed changes, which so-called "good government" groups are now celebrating.
"Not one voter went to the polls in November hoping Congress would gut ethics oversight and after countless calls, emails and tweets they've received in the past day, they clearly got the message,"  David Donnelly, CEO of Every Voice, a campaign finance reform group, said in a statement. 
"Americans want members of Congress who are more accountable to them, not less. This is a lesson for Congress — and the Trump Administration — moving forward: Americans want a government of, by, and for the people, not one that protects the self-interests of elected officials in high office."