Lady Gaga Super Bowl LI Halftime Show: Everything we know so far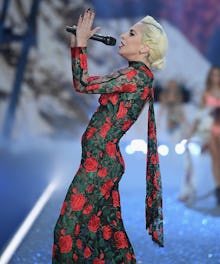 After much speculation, it was confirmed in September by Lady Gaga herself that she would be performing at the NFL Super Bowl LI halftime show. 
While details on the performance have been kept under wraps, the NFL has released a special promo for the halftime show. In the promo, Gaga is wearing an NFL shirt and dons her now-infamous pink Joanne cowboy hat.
It is probably safe to assume that new songs like "Perfect Illusion," the lead single from her 2016 album Joanne, will be included in her halftime show set-list. The album's second single, "Million Reasons," is a safe bet, too — and, of course, fans can expect to hear some of her monster hits like "Bad Romance," "Just Dance" and "Born This Way."
In an interview with FOX Sports in October, Gaga admitted she'd been planning this performance since she was 4 years old — so she knows exactly what she is going to do. But she's remaining tight-lipped about the specifics.
Lady Gaga also appeared on Good Morning America in October and teased just a little bit about how elated and honored she is to be performing during the half-time show. 
"We've been already planning it, and thinking of all the different ways we can make this a special experience for the football fans," Mother Monster admitted to Michael Strahan. "I was thinking yesterday how wonderful it's going to be to be playing a few new songs from the new record." 
In December, Gaga launched the Guest of Honor contest with Pepsi and the NFL. The contest will allow a few chosen fans to be part of the Super Bowl experience alongside Lady Gaga. 
Gaga is no stranger to the Super Bowl, of course. She performed the National Anthem at Super Bowl L in 2016. 
You can watch Super Bowl LI on Sunday, Feb. 5, starting at 6:30 p.m. Eastern on FOX.