'Shadowhunters' Season 2, Episode 2 Synopsis Released Online: What will happen?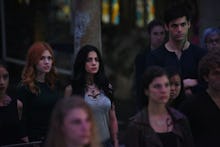 The second season of Freeform's Shadowhunters kicked off Monday — and, if the premiere is any indicator, it looks like we're in for quite an eventful season. 
In Shadowhunters' upcoming episode. "A Door Into the Dark" — which airs Monday, Jan. 9 — Clary struggles to find out where she belongs while Simon seeks Magnus' help with a heavy decision.  
Clary continues to process all the unbelievable things going on around her. She's felt like an outsider ever since joining the Shadowhunter world, but she's not quite sure she can return to her old life. 
The hunt for Jace continues, with Isabelle and Alec aiming to get to him before the rest of the Shadowhunters do so they can carry out the Clave's "shoot to kill" method. Simon, meanwhile, goes to Magnus for assistance, as he finds himself at odds with Raphael and Aldertree but is unsure how to continue.
An all-new episode of Shadowhunters airs Monday, Jan. 9 at 8 p.m. Eastern on Freeform.