Here's what's on the new Congress' agenda today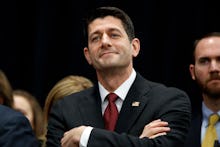 With less than three weeks until Donald Trump assumes the presidency, an emboldened conservative Congress is back to work for its first session of 2017.
In a surprise vote last night, House Republicans voted to gut the Office of Congressional Ethics, the body that investigates misconduct allegations against members of Congress. Democrats and Republican leadership opposed the change, which the full House will vote on today.
The Republicans are also expected to begin working to reverse several of the Obama administration's accomplishments, including his signature achievement, the Affordable Care Act.
Here's what Congress will have on its agenda to start the new year.
The Affordable Care Act
Since the Affordable Care Act passed into law in 2010, the GOP has waged war against it. Though it is unclear what they intend to replace it with, the Republicans are expected to begin the repeal process immediately –something the president-elect supports.
Environmental and financial regulations
Congressional Republicans are aiming to soften or remove regulations put in place by the Obama administration to control industrial emissions and to reform the banking industry after the 2008 market meltdown. 
U.N. Resolution on Israeli Settlements
The United Nations Security Council recently passed a resolution ordering Israel to cease settlement activity in Palestinian territory, deeming it "a flagrant violation under international law and a major obstacle to the achievement of the two-state solution."
The U.S. abstained from the vote, allowing the resolution to pass unanimously — drawing the ire of Israel Prime Minister Benjamin Netanyahu and President-elect Donald Trump. 
The GOP-led House will vote today to condemn the U.N. resolution.
Approving Trump's nominations
At the start of the session, Congress will be tasked with approving Trump's Cabinet picks, which have been highly controversial. Many have a history of racism, at least two are openly antagonistic toward the agencies they've been chosen to helm and his secretary of state has open ties to Russia. 
Democrats are expected to aggressively push back against the appointments, and Senate minority leader Chuck Schumer said recently that his party will work to slow the nomination process.
In other housekeeping business, Congress will swear in new members, re-elect Rep. Paul Ryan as the House Speaker and certify the Electoral College results.