'World of Warcraft: Legion' 7.1.5 patch update adds fun 'Overwatch' character parodies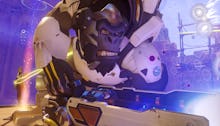 Blizzard has always liked to hide little jokes and pop-culture references within World of Warcraft, and its latest update is no exception. Patch 7.1.5, which is currently undergoing testing on the public test realm, has a funny nod to its own multiplayer shooter Overwatch — sorry, that's "Ogrewatch."
World of Warcraft Legion 7.1.5: Overwatch character parodies in WoW
In a mode called Brawler's Guild — returning to World of Warcraft in patch 7.1.5 — players face off against various enemies in an arena-like setting. One particular battle features characters that will be very familiar to anyone who's played Overwatch.
In this battle, you'll face off against three characters from "Ogrewatch," a funny Warcraft-like twist on Overwatch. The characters you fight are Stuffshrew, a parody of Junkrat; Hudson, a parody of Winston; and Dupree, a parody of McCree, according to Wowhead.
You can see in-game footage of the encounter with Ogrewatch below, starting at the 5:50 mark.
According to Wowhead, it's possible you'll also fight other Overwatch character parodies. Look out for World of Warcraft versions of Tracer, Roadhog, Reaper and Reinhardt.
More Overwatch news, updates, tips and tricks
For more on Overwatch, check out the rest of what Mic has to offer. Here's a roundup of the best Overwatch plays of the week, our definitive ranking of every Overwatch hero, a giant Overwatch FAQ for beginners, the latest rumors of a Terry Crews-voiced Overwatch character, all the updates in patch 2.01, the fandom's reactions to the Zenyatta Nutcracker skin, a guide to all the hidden details in the Winter Wonderland event and a list of unlockable goodies you can earn for Overwatch's other characters.