Meet the Noria: The future of air conditioning is here — and it's cool AF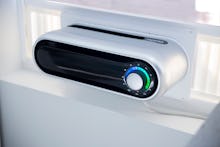 The future of cool air is actually... cool. For anyone who's sick of ugly, bulky air conditioners, a company called Noria has reinvented the window-mounted air conditioner, and — thanks to Kickstarter and Indiegogo — it's soon going to become a reality, Noria says.
Noria is special because it's much thinner and more attractive than traditional window air conditioners and features some novel components. You can control it from your smartphone and set it on a timer; it's quiet and easy to install and uninstall. Since it's so small, you can pop it under your bed in winter — a far better solution than letting your enormous window unit linger under ice and snow.
People who backed the project on Kickstarter should start receiving their units in the spring or summer, according to the project's fundraising website. You can preorder the Noria for $299 before the price goes up to $399.