New York City's Second Avenue subway station features South Asian woman and gay couple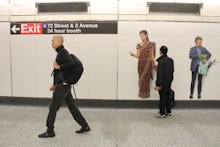 When the Second Avenue subway extension opened on Sunday, New Yorkers at the 72nd Street station were met with over three dozen mosaic art portraits of community members waiting for the train.
There are two portraits that stood out to New Yorkers: One features a gay couple, Thor Stockman and Patrick Kellog, holding hands and the other is of a South Asian woman in a burgundy sari.
The mosaic art portraits, titled "Perfect Strangers," are the work of local artist Vik Muniz and are based on posed photographs of people he met throughout his life.
Kellog, a computer programmer, met Stockman, an electrician, through online dating. The couple, who've been together for three years, married at the city's county clerk office and currently reside in Colorado. Muniz said he decided to make a mosaic portrait of Stockman and Kellog, because they simply were the types of people who make up New York City. 
"They are just people you would expect to see," Muniz told the Seattle Post-Intelligencer. "You would expect to see men holding hands."
Kellog did have one criticism: There are not nearly enough people of color featured in the subway's permanent art installations.
"There should be more art in New York featuring people of color," Kellog said to BuzzFeed. "More representations of gender. I don't think Thor and I are supposed to represent the entirety of the gay community in New York City — there is no way we could."
Sumana Harihareswara, an Indian-American, was brought to tears when she saw the mosaic portrait of a South Asian woman in traditional dress holding her phone.
"I don't think I've ever come across subway art before that makes me feel so seen," Harihareswara told the New York Times, while in tears. "This woman could be my aunt, she could be my cousin."
Harihareswara turned to a man at the station and said, "It's a woman in a sari!" out of excitement. They glanced at each other, and he said, "Representation matters."
"There is no feeling quite like seeing yourself cemented into the infrastructure of New York," Harihareswara added. "It lets me know that my city loves me."
That feeling of belonging in the big city is certainly validated for Harihareswara, and for Kellog and Stockman.
"They say around 50,000 people will use that [subway] station every day," Stockman told BuzzFeed. "I hope some of them look up while they rush to and from work and see how beautiful Muniz's work is — showing the melting pot and diversity that make up New York City. It's one of the reasons I love living here so much."
The Metropolitan Transit Authority has not yet responded to Mic's request for comment.