These are the 5 best songs used in 'The Walking Dead'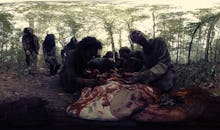 There's a lot of great music on AMC's The Walking Dead — emphasis on "a lot." The series already has two volumes of soundtracks available to fans, but that's only a small sampling of the music that has been featured. According to TuneFind, season five alone used 80 songs, and the seventh season currently has 21 songs catalogued. 
Here are the five best songs used in the post-apocalyptic zombie series.
"Mr. Splitfoot" by Paris Motel
"Mr. Splitfoot" is a 2010 song by the London band Paris Motel, which features the talents of Amy May and brothers Joe and Mike Smith. You'll hear the eerie number in season one, episode one, "Days Gone Bye." 
The band's sound, while intriguing, is hard to place, but the Guardian's Michael Hann positioned Paris Motel's first "proper' album," 2007's In The Salpetriere, as something that would appeal to indie pop, folk and orchestral pop fans alike, even if it does not quite fit any of those genres.
"This is carefully wrought, filigreed stuff: chamber folk-pop that sounds of its place (it could only be English) but seems to mix centuries with gay abandon," Hann wrote.  
Check out "Mr. Splitfoot" and other songs on ReverbNation.
"Lead Me Home" by Jamie N Commons
You'll hear British singer Jamie N Commons croon his throaty single, "Lead Me Home," on season three, episode 12, "Clear." WhatCulture describes the blues tune as a "thoughtful piece" that captures what's on the characters' minds in the scene: "It's a moody, soulful song whose brevity actually suits its quality and provided a solid ending to a first-rate episode."
"Bad Moon Rising" by Mourning Ritual
"Bad Moon Rising" is originally a 1969 Creedence Clearwater Revival song (and one the band played at the Woodstock Music Festival), but this cover by Mourning Ritual is much darker than the popular roots rock single. That being said, the song does have a history of being used in scary scenes. The band's frontman, John Fogerty, claims he wrote the song after watching The Devil and Daniel Webster (1941). Years after its release, the song was first used cinematically in An American Werewolf in London (1981) and has appeared in various movies and TV shows since then. 
The Mourning Ritual version — which you might also recognize from the Season 3 finale of Teen Wolf — was used in trailers promoting the second half of The Walking Dead's fourth season. 
"Civilian" by Wye Oak
According to The Walking Dead Wiki, "Civilian" comes on at the end of episode 10 in season two, "18 Miles Out." This beautiful song may seem tender, but it's not all sweet. To quote David Bevan at Pitchfork, "This Baltimore duo sand the edges between quiet and loud, gentle and rough, hard and soft, clean and dirty."
"Don't Think Twice, It's All Right" by Bob Dylan
This pick was the subject of an entire Vanity Fair article. In season seven, episode two, "The Well," you'll hear an a cappella version of Bob Dylan's "Don't Think Twice, It's All Right." Everyone from Ramblin' Jack Elliott to Kesha has covered this song, so it's likely you have heard some incarnation of it before. 
As Vanity Fair writer Joanna Robinson noted, the lyrics are a tad on the nose a la the Clash's "Should I Stay or Should I Go" about the situation between Morgan and Carol — which TV Guide dubbed the show's most important relationship — but still "irresistible." 
"The old-timey tune may not be an exact period match for the feudal system King Ezekial has concocted in the Kingdom," Robinson wrote of the cover of the song by the Nobel Prize-winner, "but it certainly recalls simpler times for Carol and Morgan.