Stefano Gabbana goes to war with his Instagram followers after praising Melania Trump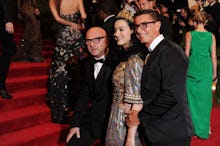 Clothing designer and known courter of controversy Stefano Gabbana, one-half of the famed Italian fashion label Dolce & Gabbana, set off a firestorm in the comments section of his Instagram after posting an image of soon-to-be first lady Melania Trump wearing one of his $2,995 designs on New Year's Eve.
"Melania Trump #DGwoman ????? thank you ???????? #madeinitaly????????," Gabbana captioned the photo.
While the post was intended to be celebratory, many in the comments section were quick to call out Gabbana's support of a figure as divisive as Trump, a woman the fashion community has been loudly debating whether or not to dress for her husband's upcoming inauguration. 
While some were all for it ...
Many were outspokenly against Gabbana's embrace of Trump wearing his designs.
Some even threatened to boycott the brand altogether.
Proving time is something the 54-year-old designer has an abundance of, Gabbana replied to dozens of messages.
With one user, he simply would not let up, pleading with them through multiple messages to no longer buy his brand's clothing.
While Gabbana is not the first designer to sartorially embrace Trump (see: Tommy Hilfiger, Caroline Herrera, Thom Browne and others), he is the first to outright attack his consumers or encourage them to boycott his namesake brand.
Of course, Gabbana's past makes the egregiousness of such conduct hardly surprising. 
In a March 2015 interview with the Italian magazine Panorama, Gabbana and business partner Domenico Dolce said children born through IVF are "children of chemistry, synthetic children. Uteruses for rent, semen chosen from a catalog." Announcing they opposed gay adoptions, the pair said: "The only family is the traditional one."
That comment received widespread backlash, most notably from singer Elton John, who condemned the pair in an Instagram post:
How dare you refer to my beautiful children as "synthetic". And shame on you for wagging your judgemental little fingers at IVF — a miracle that has allowed legions of loving people, both straight and gay, to fulfill their dream of having children. Your archaic thinking is out of step with the times, just like your fashions. I shall never wear Dolce and Gabbana ever again.#BoycottDolceGabbana
Madonna, too, weighed in on the controversy in an Instagram post of her own:
All babies contain a soul however they come to this earth and their families. There is nothing synthetic about a soul!! So how can we dismiss IVF and surrogacy? Every soul comes to us to teach us a lesson. God has his hand in everything even technology! We are arrogant to think Man does anything on his own. As above so below! Think before you speak.,,,,,,,,,,,??#livingforlove
In August, the pair finally issued a public apology. 
"I've done some soul-searching. I've talked to Stefano a lot about this. I've realized that my words were inappropriate, and I apologize. They are just kids," Dolce said in the September issue of Vogue. "You don't need labels, baby labels." 
And as far as IVF goes, Dolce says he's changed his tune. "I think everybody chooses for themselves. I don't know everything about IVF, but I love it when people are happy. It's like medicine. Science has been put on the table to help people."
If history is any indication, maybe in five months time Gabbana will come to realize attacking his fans is perhaps not the best decision, in business or otherwise.