'Pokémon Go' Update: When do the Christmas and New Year's events end?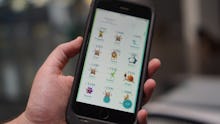 The holiday season is officially over, but the celebrations will continue in Pokémon Go for a few more days. That's because Pokémon Go is still in the midst of two separate-but-overlapping holiday events. One is Christmas-themed and the other is tied to New Year's. Here's what you need to know about when each one ends.
When does the Pokémon Go Christmas event end?
The Christmas-themed event lasts through Jan. 3. Until it ends, you'll be able to earn one single-use incubator per day at Pokéstops and have a higher chance of hatching Gen 2 Pokémon from eggs. You can check out all the details on this event here.
When does the Pokémon Go New Year's event end?
The New Year's event lasts through Jan. 8. This event increases spawn rates for the game's various starter Pokémon: Squirtle, Bulbasaur and Charmander. It also drastically increases the amount of time that lure modules last. Check out our full write-up on the event for all the details.
More Pokémon Go news, updates, tips and tricks
If you're ready to celebrate your Pokémon Go holiday, you may also want to check out Mic's other Pokémon Go content. Here are guides on how to catch Gen 2 baby Pokémon, the 98 Gen 2 Pokémon that have yet to be added to the game, how to catch Pikachu and his adorable new Christmas hat, our analysis of post-update Chansey and Rhydon, everything you need to know about finding the long-awaited Pokémon Ditto, how to create new PokéStops, how to maximize your chances of catching Pokémon and how PokéStops distribute Pokémon eggs.