'The Celebrity Apprentice' sees ratings decline with new catchphrase and no Donald Trump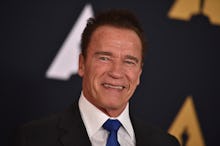 With Donald Trump soon entering the White House, hosting duties on The Celebrity Apprentice, now titled The New Celebrity Apprentice, have shifted to former California Governor Arnold Schwarzenegger. The first episode of The New Celebrity Apprentice aired Monday night, and it was easily trumped (couldn't resist) by ABC's The Bachelor. 
According to Entertainment Weekly, The New Celebrity Apprentice's premiere episode garnered 4.9 million viewers, with a 1.3 rating in the coveted 18-49 demographic. For comparison, the first episode of Donald Trump's last season as host delivered 6.31 million viewers, with a 2.4 rating among adults 18-49. 
In addition to a new host, The New Celebrity Apprentice featured a new catchphrase more suited to Schwarzenegger's past movie roles. The original Celebrity Apprentice had become somewhat famous for Donald Trump's way of dismissing cast members: essentially yelling "you're fired!" Trump even tried to trademark the phrase in 2004. 
Now, Schwarzenegger will be getting rid of contestants with a similar, though somehow less catchy, "you're terminated!" Obviously, this is a play on his past role as the T-800 in the Terminator franchise. Unfortunately for Schwarzenegger, the ratings seem to indicate that fans aren't waiting for him to say "I'll be back."
The ratings could still rebound... maybe.
If the steep decline in viewership continues throughout the season, NBC will be understandably upset. It may, however, be a bit too early to call for Schwarzenegger's termination. 
As noted by Entertainment Weekly, the premiere episode of The New Celebrity Apprentice did face stiff competition from both the Rose Bowl and the Sugar Bowl, each featuring highly anticipated match-ups. 
The Rose Bowl, which did not end until nearly halfway through The New Celebrity Apprentice's premiere, was close until the final seconds, so there were likely at least a few viewers that decided not to turn away for Schwarzenegger's debut. 
The New Celebrity Apprentice will face even stiffer competition next week, as it will be going against the College Football Playoff National Championship game between top-ranked Alabama and No. 2 Clemson (a rematch of last year's championship won by Alabama). 
We will have to wait and see if The New Celebrity Apprentice can rebound once the college football playoffs are over. If the show does not attract more viewers, it may not be Schwarzenegger doing the terminating. 
Mic has ongoing The New Celebrity Apprentice coverage. You can follow our main Celebrity Apprentice hub here.