'GTA 5 Online': Pegassi FCR 1000 motorcycle and Vehicle Vendetta mode added in new update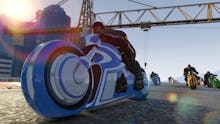 With Grand Theft Auto 5 Online's winter event coming to an end and the next game in the series still years away, it's time to get back to business in Rockstar Game's jolly world of crime. The game's latest update introduces a new Pegassi FCR 1000 motorcycle and more.
Here's everything included in the new update to GTA 5 Online. This information comes from the developer's official website.
GTA 5 Online Pegassi FCR 1000: Trick out your new motorcycle
Benny's Original Motor Works has a new bike that's now available. The Pegassi FCR 1000 is highly customizable, meaning your sick wheelie highlight videos now have a personal touch to them. 
For more information, check out this video from YouTube account GTA Series Videos:
GTA 5 Online Update: Power-up-based mayhem in Vehicle Vendetta
Have you ever thought Mario Kart battle mode would be more fun in a realistic, M-rated game? If so, Rockstar just gave you a great gift for the new year. Vehicle Vendetta is a new Adversary Mode that lets two teams face off in vehicular mayhem with plenty of ridiculous powerups. 
The "Ghost" power-up will turn you translucent, allowing you to drive through enemy cars. "Beast" will automatically turn you into a Rhino tank, while "Flipped" will reverse the enemy team's steering controls. Those are just a few of the wild powerups you can find in this destructive new mode.
GTA 5 Online Update: More January bonuses
Until Jan. 16, GTA 5 Online will offer discounts and bonuses in various parts of the game. A 25% discount is being offered on masks, body armor, grenade launchers and more. You'll also get 25% more money on vehicle exports.
You'll even get double money and Reputation points for stunt races, so be sure to participate in some death-defying vehicular stunts for a nice payout.
GTA Online tips, tricks and guides
Check out Mic's guides for bulking up, the new Import/Export DLC, how to make money fast and becoming a CEO in the online game.