Megyn Kelly reportedly leaving Fox News for NBC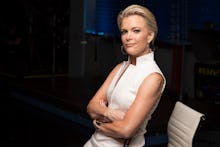 Megyn Kelly is reportedly ending her 12-year tenure with Fox News for a position at NBC.
According to the New York Times, NBC News chairman Andrew Lack offered the anchor a "triple role" at the station, where she'll be hosting her own daytime show — along with an "in-depth" Sunday-night segment — and joining her colleagues for "special political programming and other big-event coverage."
In the past year, Kelly had become a news story herself more than once, beginning with her feud with President-elect Donald Trump. In January 2016, the then-GOP candidate called Kelly "so average." He upped the ante in August when, after Kelly called him out for his sexist statements about women during a Republican debate, he said Kelly had "blood coming out of her wherever." 
Kelly has also gone to bat with her own colleagues, accusing Sean Hannity in October of being in Trump's pocket. 
"Donald Trump, with all due respect to my friend at 10 o'clock, will go on Hannity and pretty much only Hannity and will not venture out to the unsafe spaces these days, which doesn't exactly expand the tent for either one of them," she said on her show at the time. 
The following month, Kelly heaped onto allegations of sexual harassment leveled against former Fox CEO Roger Ailes, who she said would sling "inappropriate sexually charged comments" her way and once tried to kiss her on the lips. 
These accusations came to light in Kelly's memoir Settle for More — and with this new position, Kelly may just have been following the title's advice.