'The Man in the High Castle' season 3 renewed: Everything we know so far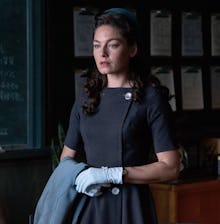 It's been less than a month since The Man in the High Castle released its second season, but Amazon has already announced that the drama series based on Philip K. Dick's alternate history novel will return for a third.
While it's still too early for plot details or casting news, Amazon did give us a few basic facts on what to expect from the third season of the show, which had the most viewers ever for one of their scripted series in the opening weekend of its second season.
The Man in the High Castle season 3
Frank Spotnitz, who developed the series and acted as showrunner, will take a backseat in season three. According to an Amazon press release, he will be replaced by Eric Overmyer, best known for developing another Amazon original series: Bosch. 
"Eric and his team are doing an incredible job crafting stories about the inner lives of those who struggle to do good in a world that is not. We couldn't be more excited to bring season three to customers in 2017," Joe Lewis, the head of comedy and drama at Amazon Studios, said in the release, which announced the series' renewal. 
While an exact date hasn't been given, we expect season three will come out sometime in the winter, following in the footsteps of the first two seasons, which premiered in January and December, respectively. 
In season two of The Man in the High Castle we continued to see what the world would look like if the Axis powers had won World War II and the United States had been turned into a colony ruled by both Germany and Japan. 
Juliana Crain, a timid woman living in the Japanese-controlled San Francisco, made her way to New York, where she was forced to decide where her allegiances lie. Meanwhile, Joe Blake, a Nazi who went undercover as a resistance member in season one and fell for Juliana, headed to Berlin to meet his father, a high-ranking Nazi leader. All the while a war brews between Japan and Germany, one that could have catastrophic results for the country.
We may not know exactly what will happen in season three, but based on the previous seasons we could assume that tensions between Japan and Germany will run high, that the resistance will gain momentum and that Juliana — who discovers something major in the season 2 finale — will find her purpose.