'Game of Thrones' season 7 is not skimping on production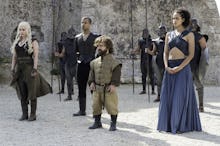 Fans of HBO's hit series Game of Thrones know that their days in Westeros are numbered. Despite extremely positive reception and high viewership ratings for the series, it was announced last year that Game of Thrones would end after two shortened seasons. Fortunately, you can expect those shortened seasons to be epic. 
Entertainment Weekly is now reporting that production on Game of Thrones' seventh season is taking just as long as previous seasons — despite the upcoming season consisting of just seven episodes compared to the usual 10. 
The report states that production on season seven of Game of Thrones will last roughly five months. To see just how intensive Game of Thrones production is, you can compare this to a network drama, which, according to Entertainment Weekly, normally films each installment of an average 22-episode season in about 8 to 10 days. 
Iain Glen, who plays Ser Jorah Mormont in Game of Thrones, first revealed to Radio Times that production would take roughly the same amount of time in season seven. The actor stated, "They are taking the length of time it takes to shoot 10 episodes to shoot just seven this year and six next year. There are 15 more hours left in Thrones as we understand it, but that may change. But that's as far as we know."
Between the epic battle sequences and different settings, each season of Game of Thrones has more in common with a Peter Jackson trilogy than it does with traditional television. 
So if production will be just as intensive for seven episodes as it is for 10 — it's likely that we are in for an exciting 15 final hours of treachery, deceit and, of course, epic battles.  
Mic has ongoing coverage of Game of Thrones. Please follow our main Game of Thrones hub here.