The NAACP is occupying Jeff Sessions' office to protest his attorney general nomination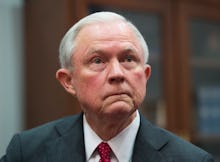 The president of the National Association for the Advancement of Colored People, along with a handful of other NAACP leaders, is currently waging a sit-in in Sen. Jeff Sessions' Mobile, Alabama, office, vowing to stay there until he withdraws his name from consideration as President-elect Donald Trump's attorney general. 
"The @NAACP & @AlabamaNAACP are occupying the Mobile office of @jeffsessions — untill he withdraws as a AG nominee or we're arrested," NAACP President Cornell Wm. Brooks tweeted Tuesday afternoon.
Trump nominated Sessions, a long-serving Alabama senator and former federal prosecutor, to lead the Department of Justice on Nov. 18; Sessions was the first person Trump nominated to his cabinet. 
His nomination drew a loud outcry from Democrats and other Democratic groups, who have been reminding Americans of Sessions' failed nomination to a federal judgeship in the 1980s.
President Ronald Reagan nominated Sessions, then a U.S. attorney in Alabama, to the federal bench in 1986. But that nomination failed after Sessions came under fire for racist comments he allegedly made to colleagues, in which he joked about the Ku Klux Klan and called groups like the NAACP "un-American."
Sessions denies the allegations.
The NAACP didn't bring up Sessions' alleged racism, but leaders did say his opposition to voting rights makes him an unacceptable pick for attorney general.
"As a matter of conscience and conviction, we can neither be mute nor mumble our opposition to Sen. Jefferson Beauregard Sessions becoming attorney general of the United States," Brooks said in a statement, according to Alabama.com. "Sen. Sessions has callously ignored the reality of voter suppression but zealously prosecuted innocent civil rights leaders on trumped up charges of voter fraud. As an opponent of the vote, he can't be trusted to be the chief law enforcement officer for voting rights."
Whether Sessions is confirmed for the attorney general position is up to the Senate.
The Senate will hold hearings on his nomination on Jan. 10 and 11, Senate Judiciary Chairman Chuck Grassley announced last month.