Megyn Kelly Salary: Here's how much the Fox News anchor could get paid at NBC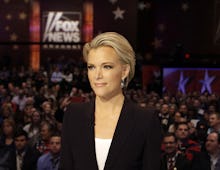 Fox News anchor Megyn Kelly is leaving the network, where she has worked for more than a decade, and will take a new gig at NBC, according to a New York Times scoop Kelly quickly confirmed in a series of social media posts.
Sources close to the deal wouldn't comment on the exact sum that was able to lure Kelly, although NBC was one of multiple networks claiming they couldn't match Fox News' offer, which was reportedly north of $20 million. 
Still, Kelly is expected to make roughly $15 million during the final year in her contract with Fox News, according to the Wall Street Journal. 
A spokeswoman from NBC declined to comment in an email to Mic about Kelly's new salary or start date. 
As the Times noted, NBC didn't need to match Fox News' $20 million offer to put Kelly among the world's highest-paid anchors. According to Forbes' list of highest-paid TV show hosts, NBC's Matt Lauer makes $25 million, and Fox News' Bill O'Reilly makes $18.5 million. 
Her on-air work is not Kelly's only source of income; Kelly also inked a book deal in early 2016 worth somewhere in "the neighborhood of $5 million," a source told CNN Money. 
There's some evidence to suggest bolstering her net worth may not have been the primary motivation for Kelly's departure.
Ever since Kelly joined other women at the company in accusing former network head Roger Ailes of sexual harassment, speculation has mounted that she would leave the company.
Her more news-oriented style — which contrasts heavily with Fox News' ideological and opinion-oriented programming — also furthered speculation she was ready to make a move, according to the Times.
Still, even if Kelly did decide to jump ship without a raise, she's done pretty well for herself. Personal finance site GOBankingRates puts her net worth at a cool $15 million as of November.
Sign up for The Payoff — your weekly crash course on how to live your best financial life.