Why everyone, regardless of gender, race or socioeconomic status, should own a wig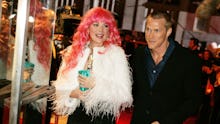 Fashion is, primarily, about the two f's: functionality and fantasy. We wear things because they service our needs: Coats, scarves and gloves keep us warm in the winter, shoes protect our feet, bras push up our breasts while also enslaving us to the patriarchy. This is function.
What we wear, how we dress and how we style ourselves is about presenting a perfect version of ourselves to the world. Who do you want to be today? This is fantasy.
No element of style creates a fantasy like a wig. Everyone should own a wig.
Aren't wigs just for drag queens? Halloween costumes? Cancer patients? Secret agents going deep undercover? No, you are wrong. Wigs are for everyone, no matter their gender, experience, race, socioeconomic status, sexuality, occupation, ability or religion.
A wig can come in handy on so many occasions. Do you need to spend a day walking around your city feeling anonymous and fierce? Wear a wig and go incognito. Are you going out but your wardrobe feels tired? Wear a wig and feel fresh. Want to gag everyone at the next bachelorette party/baby naming ceremony/prison wedding you have to attend? Wear a damn wig and live your life.
Whether you're obscuring your natural look or heightening it, a wig will take you there. You can don a sea foam blue afro (as long as you aren't white because we really need to stop appropriating black hairstyles) or a chic bob and both will utterly transform you.
When you're buying your first wig, keep it simple. Some drag queens spend hundreds on elaborately styled pieces of art, but you don't need to do that if you're just looking for something to wear out next New Year's Eve. Go to your local beauty supply store and browse — you'll be able to find something cute for under $50. My first wig was actually three wigs I bought for $10 each and sewed together for a huge bushy moment when I was Hermione Granger for Halloween (I'd include photos but I don't want to misgender myself.)
Do you want something simple and chic or a full fantasy? Approach buying a wig in two ways: Are you looking for something that is the perfect version of your own hair, something that looks natural without needing to be washed and styled? Or do you want to transform into someone else?
If this is about something that looks natural and like your real hair, you're probably going to spend more money, because you don't want your wig to look fake, and the more pricey the unit, the better it's going to look. This is probably crossing over into human hair territory, where wigs can cost several hundred dollars. If you're about that life then go for it, honey. 
High end wigs are totally a thing. From Raquel Welch to the Real Housewives of Atlanta, celebrities have given us a glimpse behind their perfect photos to the reality that stars wear wigs, too! Remember when Kylie Jenner "started" wigs?
If you want something dramatic and fun and don't necessarily care about it looking real, you have many more less expensive options. You can buy something synthetic between $20-50 at any local beauty supply store and be good to go. With a price point that low, you can get a few wigs and have a whole arsenal of fantasy looks. New Yorkers know the wonders of Ricky's, and even though their wigs are slightly overpriced for the quality, they come well styled so you barely have to do anything but take them out of the box and put them on. 
Websites like Wigs.com, Paula Young and Wigs Online have great affordable options, but always try to buy something in person if you can. Most beauty supply stores will let you try on around $3 wigs for the price of a wig cap (usually $1 at the most). 
From a practical standpoint, wigs are great for trying out a hairstyle you've always wanted but been too nervous to go for. Want to know what you'll look like blonde, or with bangs, or with a perm, or with ombre hair? A wig is so much better for trying a look out than one of those iPhone apps where you look like your 8-year-old niece photoshopped your hair.
Wigs are a fantastic, essential style tool that have been worn for literally thousands of years. Women of color have been pioneering the everyday use of wigs for decades, and of course there are racial/political implications inherent in that — just listen to Solange's "Don't Touch My Hair." Drag queens have been proving their effectiveness as tools of total transformation as well. It's about time the rest of us realized what we're missing out on.