Kim Kardashian West briefly dropped "West" from her Twitter/Instagram handles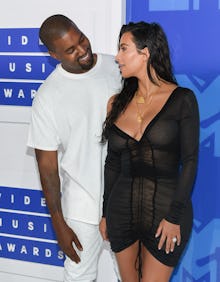 New year, new Kim?
That seemed to be the case for a brief moment on Tuesday, when Kim Kardashian West temporarily dropped the "West" from her name on Twitter and Instagram, sending the internet into a frenzy amid rumors she is planning to divorce her husband, rapper Kanye West.
Kardashian West, who has not been active on social media since she was robbed in Paris in October, quickly re-added West to her name on her accounts.
But in making her name simply "Kim," the reality TV star added fuel to the fire of rumors she's planning on leaving Yeezy, who was hospitalized in November following an apparent 5150 psychiatric hold.
According to TMZ, though, the move was unrelated to her rumored marital troubles. She is trying to rebrand herself as a one-name celebrity, à la Oprah, TMZ reported.
In her first tweet since October, Kardashian West posted a photograph of herself with West and their children, North and Saint, with the caption "family."