Nintendo Switch Release Date Games: Mario, Pokémon and other launch titles to expect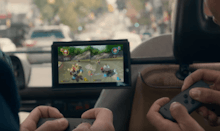 The list of Nintendo Switch launch games is one of many details the company is keeping quiet as we move closer towards its planned March release, even as the leaks surrounding the company's new console continue to increase.
Nintendo has yet to release an official rundown of games planned for the Switch, but various rumors and reports from across the web may offer a pretty good idea of what to expect, from first-party games like Pokémon and Zelda to third-party titles like Mass Effect: Andromeda and Rayman Legends.
Nintendo Switch Release Date Games: First-party launches 
Pokémon
Tsunekazu Ishihara, an executive at The Pokémon Company, confirmed that a Pokémon game would come to the Switch in an interview with the Wall Street Journal back in September.
The game appears to be far from a launch title. After all, we haven't seen any footage of a new Pokémon game for the Switch, though it's possible it could end up being that HD remake of Sun and Moon we've been hearing rumors about.
Mario Kart 8
The current Wii U title is expected to be ported to the Switch. Nintendo basically confirmed this already with its initial trailer for the console, which included what looked like Mario Kart 8 on the portable system. Nintendo Switch backwards compatibility is still unconfirmed, but it's possible the game could be available as a digital download from Nintendo's eShop or as a physical cartridge.
Super Smash Bros.
Yet another game that originated on the Wii U, Super Smash Bros. 4 is very likely to come to the Nintendo Switch. Bringing it over as a launch title, like Mario Kart 8, would simply require making a Switch version available in March when the console launches. Nintendo could even forgo physical copies and offer a digital download of the game. 
The real question is whether Nintendo plans to turn Super Smash Bros. into a serious competitive game when the Switch is released.
Super Mario Bros.
Nintendo is almost definitely planning a new Mario platformer for the Switch. In the announcement trailer, we saw brief footage of Mario running and jumping through two different levels. More recently, the company has been teasing the possibility of a fresh game both online and at events.
Mario-Rabbids crossover game
While it might not be a launch title, a Super Mario Bros. and Rabbids crossover game is expected to make its way to the Nintendo Switch eventually. Ubisoft, the developer behind these crazed rabbit characters, hasn't revealed much about the rumored game. However, we may learn more before the end of the year, at least according to reliable Nintendo leaker and gaming journalist Laura Dale.
Legend of Zelda: Breath of the Wild
Of Nintendo's first-party games, this one seems most likely to be a lock for the Switch launch, with Let's Play Video Games reporting it's essentially a done deal. The latest Legend of Zelda game could be the Switch's killer title when it launches this year, and it's set to land on the current Wii U model as well.
As for exactly when it will arrive, we still don't have a set release date. However, a recent report from the Japanese magazine CoroCoro suggests the game will arrive in the spring, which could mean a release as soon as March 2017.
Nintendo Switch Release Date Games: 3rd-party launches
Nintendo is confident in the Switch's third-party support, but history has proven otherwise. Could the Nintendo Switch be the first console in several years to actually bring proper third-party support to a Nintendo home console? We're not convinced yet, but there are some good rumors out there.
Beyond Good and Evil
Another rumor from Let's Play Video Games points to a legacy Ubisoft title which could be a Nintendo Switch exclusive. The 2003 game Beyond Good and Evil is reported to arrive in 2018 on the Switch. 
Mass Effect: Andromeda
The upcoming Mass Effect game, sub-titled Andromeda, has plenty of hype surrounding it. Unfortunately, EA confirmed today it has zero plans to bring the space epic to the Nintendo Switch, according to Stevivor.
Rayman Legends
While just missing the launch window, the popular Rayman side-scroller, Rayman Legends, is reportedly coming to the Switch. The game could be making its way to the console sometime between April and June of 2017, according to Laura Dale.
Nintendo Switch news, rumors and updates
Check out more Nintendo Switch coverage, including Mic's reports on whether the console will be backwards-compatible, what current games we want high-definition remakes of and information about the upcoming event.