What happened to Lorde? Singer to give first full performance in 3 years at Coachella 2017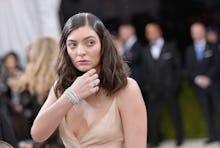 Four years ago, Lorde joined the music world with the release of her debut record, Pure Heroine. She became an immediate sensation, and the album — which boasted her hit single, "Royals" — sold over a million copies. But despite her launch to fame, the young singer from New Zealand has kept quiet of late. That is, until it was announced that she will play Coachella in April 2017.
The two-weekend, California-set music festival will mark the singer-songwriter's first live performance in three years.
Lorde has not yet announced an official release date of her Pure Heroine follow-up, but the festival appearance can't be anything but a good sign. Also, in November 2016, she tweeted about "a record," which, if she's talking about her own, could be finished.
She also took to her Facebook a few days before the tweet, on Nov. 7 — her 20th birthday — to reflect on her career and her absence from the spotlight:
Sometime in the last year or so, part of me crossed over. For one thing, I made a very deliberate choice to withdraw for a little while from a public life. I haven't had my hair or makeup done in a year, the free handbags dried up LONG ago, and the paparazzi at the airport are almost always for someone else.
She then addressed the new album:
I want you to see the album cover, pore over the lyrics (the best I've written in my life), touch the merch, experience the live show. I can hardly stop myself from typing out the name. I just need to keep working a while longer to make it as good as it can be. You'll have to hold on. The big day is not tomorrow, or even next month realistically, but soon. I know you understand.
Hopefully we'll hear about the record (maybe a single?) before her Coachella set — but until then, it seems like 2017 will be the Year of the Lorde.