Boy Scouts kicked out an 8-year-old boy for being trans — but we shouldn't be surprised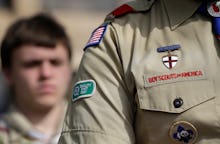 The Boy Scouts of America have seemingly made some strides toward inclusivity in recent years. But while the organization has nominally lifted the ban on gay scouts and troop leaders, the BSA has not taken a stand for transgender individuals — leaving one former Cub Scout, Joe Maldonado, without a pack.
Eight-year-old Joe was reportedly kicked out of the Scouts when parents began complaining about his gender identity.
As NorthJersey.com reported, the 8-year-old came out as a boy in 2015, when he was entering the second grade, and has been a "much happier child" since, his mother, Kristie Maldonado, told the outlet. She said his peers, both at school and within Cub Scout Pack 87 in Secaucus, New Jersey, seem to have accepted his gender identity. 
"Not one of the kids said, 'You don't belong here,'" Kristie said. But apparently a few pack parents did. Kristie told the website that an official from the BSA's Northern New Jersey Council called her roughly one month after Joe joined the Scouts and informed her that, because "some mothers" had expressed concern over Joe's transgender identity, he could not come back to his pack. 
"I'm way more angry than sad," Joe told the outlet. "My identity is a boy. If I was them, I would let every person in the world go in. It's right to do."
The Cub Scouts welcomes boys between the ages of 7 and 10 or in grades one through five. In an emailed statement, a spokesperson for the BSA said that Joe "does not meet the eligibility requirements to participate," and that "If needed, we defer to the information provided for an individual's birth certificate and their biological sex." 
(It's unclear, however, how or why such legal documents would come into play: The Boy Scouts of America Youth Application makes no mention of birth certificates.)
The BSA's stance on transgender membership is somewhat less hazy: While its communications director, Effie Delimarkos, told the Associated Press in July that the organization did allow trans youths between the ages of 14 and 20 to join its co-ed Venturing program, she noted that both the Cub Scouts and the Boy Scouts are open only to boys — with cisgender as the implicit caveat.
While the Girl Scouts of America welcomes transgender youths who identify as girls and who are recognized as such within their homes and communities, the Boy Scouts' policies do not specifically address the question of gender identity. According to NorthJersey.com, the BSA would not comment on the existence of written rules for trans Scouts. But the BSA has a notoriously bad track record when it comes to LGBTQ rights.
Rooted in conservatism: With its strong ties to a number of different religions — such as the Catholic, Mormon, Baptist and Episcopal churches — the BSA is conservative in its membership standards, long prohibiting openly gay men and women from joining in any capacity. Its rules faced opposition, but stood until quite recently. In 1992, for example, a former scoutmaster and Eagle Scout named James Dale sued the BSA for having dismissed him once they became aware that he was gay; in 2000, the U.S. Supreme Court ruled that BSA, as a private entity, was within its rights to ban homosexual members, thereby sanctioning its discriminatory practices. 
It wasn't until 2015 that the organization's executive board voted to lift the ban. But that didn't mean acceptance of gay membership across the board: Local councils and "religious chartered organizations," according to current membership guidelines, retain the right to bar applicants on the basis of sexual orientation. 
When it comes to achieving equality for LGBTQ individuals within the BSA, it always seems to be one step forward and two steps back; Joe Maldonado's case is no exception. But because there exists such a visible problem with inclusivity in Scouting, there also exists advocacy groups to help the marginalized. According to Zach Wahls — co-founder of Scouts for Equality, which aims to end discrimination within the BSA — it's time the Scouts let Joe and boys like him join the ranks.
"If Joe wants to be a Cub Scout, there's no good reason he shouldn't be," Wahls wrote in an email. "I'm glad the Boy Scouts have made clear they don't have a problem with transgender people, and now it's time for them to walk the walk. The Girl Scouts have allowed trans girls to participate in their program without any challenges, and the Boy Scouts shouldn't have any trouble following in their footsteps."