How to get 'Hamilton' tickets in 2017: Tips and tricks to get tickets this year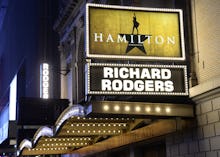 When people make their New Year's resolutions, they are often optimistic and shoot for the stars. Instead of losing 10 pounds, they aim for 15. Instead of one chapter a week of that book they're writing, they'll write the entire book. But the most unattainable resolution of all might be to obtain tickets to Hamilton.
The hit musical about Founding Father Alexander Hamilton, featuring rap and hip-hop music, first opened on Broadway in 2015 after a sold-out, off-Broadway run at the Public Theater. The production went on to shatter box office records and win 11 Tony Awards. Purchasing tickets to the perpetually sold-out musical appears to be so impossible that writer and original star Lin-Manuel Miranda even poked fun at it when he was hosting Saturday Night Live in October 2015, claiming he had never seen the show he created. 
But there are a few ways fans can get tickets — if they are willing to be generous, ingenious and, most of all, "young, scrappy and hungry."
The lottery 
A few lucky fans get to see Hamilton from the front row every day — and for only $10 — by winning the Hamilton lottery, affectionately known as Ham4Ham. They can enter the lottery online, which is made even easier by the Hamilton lottery app, which will notify them when the lottery has opened and auto-fill the contestant's information. 
Cancellation line 
Fans have to literally pound the pavement to pull this off, waiting outside the theater to purchase tickets that were previously purchased and then released. These tickets are sold full price, so there are no discounts or guarantees as to where the seats are located in the theater. The wait could be several hours or even a few days, and there are some strict rules to follow, but there will be other superfans in line to keep each other company.  
Charitable donations 
With a $10 donation to Planned Parenthood, fans can enter to win a chance to see Hamilton on Broadway, in Chicago and in San Francisco and meet the cast backstage. Miranda's mother, Luz Towns-Miranda, is on the national board of directors of Planned Parenthood Action Fund and has written about the importance of Planned Parenthood. 
By donating to the AIDS charity (RED), on the fundraising site Omaze, fans will be entered to win tickets to the show and a meet and greet with its current star, Javier Muñoz, in his very own dressing room. Muñoz, who has spoken publicly about being HIV-positive as well as a cancer survivor, says in the video about the donations, that this cause "means more to me than you can imagine."
Another way to see the show while also giving back is to donate to Broadway Cares, a fundraising and grant-making organization dedicated to helping people living with HIV and AIDS. With a certain donation, tickets to Hamilton can be requested — and, as an added bonus, some of the donation is tax-deductible, a smart financial bonus that Alexander Hamilton himself might approve of. 
Hit the road 
New York City isn't the only place to see Hamilton. The musical is now playing in Chicago, as well as embarking on a tour throughout the United States. A London production is scheduled for November 2017. While paying airfare to these cities might seem counterintuitive at first, tickets to the Broadway production are selling for big bucks, so it might add up to be a better financial decision.