'Kingdom Hearts 3': Release date details, trailers, promos, gameplay and more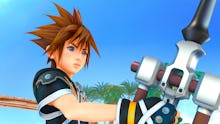 2016 was a year in which games that seemed like they'd never come out — like Final Fantasy 15 and The Last Guardian — finally became real things you could purchase with real money in a real store. One of the big, notable exceptions was Kingdom Hearts 3, a game that's been in development for several years but continues to remain mostly shrouded in mystery.
Hopefully 2017 will bring some new information — and maybe an actual release date — for Kingdom Hearts 3. Until then, here's everything we know about it so far.
Kingdom Hearts 3 gameplay
Despite announcing it in 2013, Square Enix has only released small bits and pieces of Kingdom Hearts 3 gameplay. In 2013, Disney released one of the earliest looks at Kingdom Hearts 3 in action, which shows some of Sora's more powerful abilities based on Disney theme park attractions.
The next big look we got at Kingdom Hearts 3 was during Square Enix's 2015 E3 presentation, which is embedded below.
Most recently, Kingdom Hearts 3 gameplay popped up at the end of this trailer for Kingdom Hearts HD 2.8 Final Chapter Prologue — yes, that is its real title. The good stuff starts at the 3:37 mark.
Kingdom Hearts 3 characters: Which Disney movies will be included?
One of the hallmarks of the Kingdom Hearts series is its crossover with Disney movies. Good news: We already know of two movies that will be making an appearance in Kingdom Hearts 3.
In 2015, Disney revealed that the worlds of Big Hero 6 and Tangled would both be featured. The gameplay in the most recent trailer takes place in the world of Tangled — you can see Rapunzel's tower at the beginning — but we have yet to see what the Big Hero 6 world of San Fransokyo will look like.
No other worlds have been announced yet, but I'd bet my left arm you'll meet up with Anna and Elsa from Frozen. The video-game-centric world of Wreck-It Ralph would be cool too.
Kingdom Hearts 3: Which platforms will it support?
Previous entries in the main Kingdom Hearts saga were exclusive to PlayStation, but Kingdom Hearts 3 will be available on both PS4 and Xbox One.
Kingdom Hearts 3 release date: When will it come out?
No official release date has been announced yet for Kingdom Hearts 3. Development has likely been a bit slower than Square Enix would have hoped, but since Square Enix finally released Final Fantasy 15, it's likely allocating additional manpower to Kingdom Hearts 3 to have it out as soon as possible.
When Square Enix announces more, Mic will let you know.
More video game news, updates, tips
For more video game news, check out the latest that Mic has to offer. Here's a guide for using Pokémon Go's new tracker, information on the latest Overwatch patch, the latest details on Resident Evil 7 and information on a new motorcycle added to GTA Online.