Why Beyoncé headlining Coachella is a big deal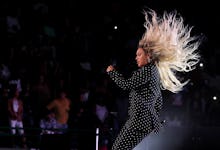 It's no longer possible to summarize Beyoncé's music with a single reductive catch-all term like pop or R&B. In 2016, Queen Bey became legion. She tried out country, grabbing all the headlines out of the Country Music Association Awards; and got nominated for a rock Grammy, confusing the hell out of the lead singer of Disturbed. Now, in 2017, it seems that Beyoncé's ever-expanding artistic universe is only going to get bigger. Coachella drove the point home Tuesday in announcing its 2017 line-up, which features Queen Bey as their Saturday headliner.
The move crosses yet another of the world's biggest stages off the performer's bucket list. Following the Super Bowl in 2015 and now Coachella in April, there really aren't any bigger stages left that the singer hasn't performed on. But this isn't just a big moment for Bey, this is big for Coachella, as well. 
Beyoncé is the first female headliner the show has had in nearly a decade, since Portishead's set in 2008. Besides Portishead and now Bey, only one other woman has ever had the honor of a headlining slot: Björk, who headlined the fest in 2002 and 2007. In a festival culture that's notoriously male-dominant, it's a welcome break from a patriarchal norm.
Festival culture's diversity problem
Last year, Coachella broke one of its own records by featuring more female-led acts than it ever had in the 16 years since its inception. However, that percentage of female-led acts still leveled out at 27% of its total line-up, and the 2015 festival was still missing one important thing: a female headliner. 
Every year promoters scramble for reasons why they decided not to book big-name female acts, and one of the most leaned-upon is that female acts don't promise the same returns.
"I certainly don't think it's because booking companies are saying, 'Oh, we're going to put women at the bottom of the lineup,'" music writer Evelyn McDonnell told Salon in 2013. "The men of power who are in this industry have this internalized, institutionalized sexism. They see men as having economic power and therefore [men] get billed."
Perhaps Coachella's organizers are done leaning on the inherent sexism of that logic and are finally willing to take that chance on a performer with one of the highest-grossing tours of all time. If Beyoncé's Coachella slot is successful, organizers far and wide will likely not be so eager to dismiss a potential top-billing female performer simply because of her sex or genre.
Beyond rock, beyond pop, beyond Beyoncé
Bey's invite also marks a shift away from the indie-rock-centric festival lineage of Grateful Dead, Phish and jam bands of old, a direction the modern festival has been trending away from for years now. Each year, memes calling out Coachella for growing more and more basic spread wider and wider. Beyoncé was actually an attendee at last year's Coachella, and she included shots of the Coachella Valley's iconic sign in her "Feelin' Myself" video with Nicki Minaj. 
Beyoncé's inclusion feels like a formal tipping point for festival culture, an official break with hippie past and the formal start of a new era, one that's unabashedly corporate and must take popularity and earning potential of its artists into account. It was always going to happen; at least the shift has been marked by an artist who is still dedicated to musical and artistic innovation, as Beyoncé has proved to be on her last two albums. 
Lemonade and her previous self-titled album made a notable break from her pop-star peers, dispensing with radio friendly hits to craft sprawling, immersive and multidimensional full-lengths. She went deeper than purist fans often demand their choice artists to go, securing paychecks for lesser-known artists like Boots and Big Freedia along the way. And never forget that, since way back in her "Green Light" days, Beyoncé's band has long been one of the tightest and most-respected on the stadium circuit.
It's a new day for festival culture, and love or hate it, at least the music will still be fire.