'Overwatch' Update Patch Notes: New Oasis map now live for PS4, Xbox One and PC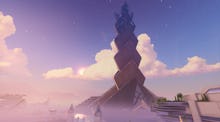 Tuesday afternoon, a new patch hit the live version of Overwatch and introduced the game's newest map, Oasis.
The news was announced via a video uploaded to the official Overwatch YouTube account.
New Overwatch map Oasis features a jump pad and hazardous traffic
Oasis, a control point map set in a futuristic city in the Arabian Desert, features some interesting new elements not present in any other Overwatch maps thus far.
For example, near the edge of the map, there's fast-moving traffic that will kill your character instantly upon impact. 
Since it's on the edge of the map, it's not a zone that most characters will travel through, but it's a neat touch.
There's also a "jump pad" that functions like an elevator to help characters get to the upper levels of the map more quickly.
More Overwatch news, updates, tips and tricks from Mic:
For more on Overwatch, check out the rest of what Mic has to offer. Here's a roundup of the best Overwatch plays of the week, our definitive ranking of every Overwatch hero, a giant Overwatch FAQ for beginners, the latest rumors of a Terry Crews-voiced Overwatch character, all the updates in patch 2.01, the fandom's reactions to the Zenyatta Nutcracker skin, a guide to all the hidden details in the Winter Wonderland event and a list of unlockable goodies you can earn for Overwatch's other characters.