13 quick and healthy stir-fry recipes for dinner in a flash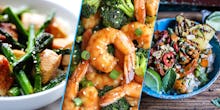 It's no secret that cooking can be time consuming. 
Cleaning, chopping, prepping and cooking ingredients can eat up an hour, if not more, not to mention the post-cooking kitchen and dish cleanup that takes away from enjoying the rest of your night.
With some prechopped vegetables (either by you or your local supermarket), flavorful sauces and spices and a good-sized wok or frying pan, you can whip up a stir-fry in no time. With stir-fry, winging it is totally possible, but use these quick and healthy recipes as your guide for making dinner in a flash.
Honey ginger tofu and veggie stir-fry 
Served over farro, this vegetarian stir-fry can also be made gluten free to accommodate a variety of healthy diets. Get the recipe here. 
Black pepper stir-fried noodles
Hold off on the lo mein takeout and whip up these udon (or rice!) noodles in less time than it takes to watch an episode of Top Chef. Get the recipe here.
30-minute sweet Thai chili peanut chicken and grilled pineapple stir-fry
This elaborate-sounding stir-fry lets you create a complex dish with an easy-to-follow recipe you can master in half an hour. Get the recipe here.
Sake and ginger soba noodle salmon stir-fry
Fresh fish, greens and soba noodles make this stir-fry dish a healthy dinner option you'll be happy to eat for lunch that next day, too. Get the recipe here. 
Easy shrimp and broccoli stir-fry
This recipe, which may just be similar to your favorite takeout order, lets you cook up your Chinese food cravings in a cinch. Get the recipe here. 
Chicken and asparagus stir-fry
Cooking doesn't have to be complicated. Just one vegetable and one protein with a highly flavorful sauce may create your favorite stir-fry ever. Get the recipe here. 
30-minute sesame chicken noodle stir-fry
This ridiculously easy recipe is perfect for cooking and stir-fry beginners alike to make a vegetable and protein-packed noodle dish. Get the recipe here. 
Eggplant string bean stir-fry
The crisp green beans and soft eggplant complement each other in this quick-to-make stir-fry skillet. Get the recipe here.
Stir-fried carrot noodles with chicken
Sub out traditional noodles for carrot noodles to make a mostly veggie stir-fry you can feel good about eating. Get the recipe here. 
Sichuan bok choy tofu stir-fry
Greens and tofu never looked as good as they do now in this fresh and flavorful stir-fry. Get the recipe here. 
Sheet pan Asian stir-fry
If you're adverse to using a wok or skillet, go for this sheet pan stir-fry recipe that encompasses all the flavors of a traditional stir-fry into an oven-made meal. Get the recipe here.
30-minute portobello mushroom stir-fry
Sliced portobello mushrooms add texture and umami flavor to this meatless, veggie-packed vegan stir-fry. Get the recipe here. 
Chicken and tofu stir-fry with celery and cashews
If you're into the idea of eating tofu but not ready to commit to full on vegetarian stir-fry, this recipe with chicken as well is your perfect compromise. Get the recipe here.