Rockettes' manager tells them to "tolerate intolerance" ahead of inauguration performance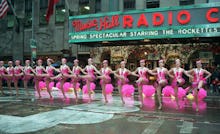 Jim Dolan, the executive chairman of Madison Square Garden, is asking the Rockettes to be "tolerant of intolerance" and perform at Donald Trump's inauguration ceremony on Jan. 20, according to a report in Marie Claire.
The Rockettes, the high-kicking dance company that headlines the Radio City Christmas Spectacular, were reportedly "embarrassed" to learn they'd be performing at the inauguration. Though they are not required to perform, the dancers were reportedly not consulted about the gig.
In a meeting with the company, Dolan asked the dancers to be tolerant of different political opinions. According to Marie Claire, one dancer responded that "it just sounds like you're asking us to be tolerant of intolerance."
"Yeah, in a way, I guess we are doing that," Dolan said. "What other choices do we have? What else would you suggest?"
The Trump team has reportedly had trouble finding top-name talent to perform at the inauguration. Recently, a member of the Mormon Tabernacle Choir, also slated to perform Jan. 20, resigned in protest of Trump. 
According to Dolan, the company will be celebrating "a new president, not necessarily this president," and that "as an American brand," it's appropriate for the dancers to perform.
But dancers at the meeting with Dolan reportedly expressed concerns about being thrust into the political sphere without their consent, and about Trump's message.
"Why was this leaked to the media before we were told?" one dancer said. "Shouldn't we have gotten the heads-up so that issues of full-time participation could have been discussed before things got out of hand the way they did?"
Though Madison Square Garden Company, which manages the Rockettes, emphasized on Dec. 23 that no dancer would have to perform against her will, the New York Times reported that some of the women may have felt under pressure to do so because of an email sent to them the previous day by their union, the American Guild of Variety Artists.
"If you are full-time, you are obligated," the email obtained by the Times read.
According to the company, more Rockettes requested to take part in the gig than they have slots available. Marie Claire reported that no women of color have signed up to perform at the swearing in.
Barry Watkins, a spokesperson for Madison Square Garden, slammed the Marie Claire report as unethical and called the magazine's source "cowardly and deceitful."