One powerful family story reveals why representation matters — even in 'Star Wars'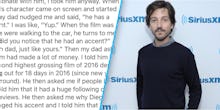 It's a simple story about fathers, daughters and Star Wars — and it's bringing the internet to tears.
On Tuesday morning, a tweet describing a daughter bringing her father to see Rogue One: A Star Wars Story, which is doing wonders for on-screen diversity, began circulating on Twitter. The tweet, which had more than 1,700 retweets by Tuesday evening, is a screenshot from Tumblr, where the original post has over 14,000 notes since it was posted on Monday.
In the post, Tumblr user riveralwaysknew said she brought her father, who has a thick Mexican accent like lead actor Diego Luna, to see the film. After the movie, her father was stunned.
"My dad was so happy," riveralwaysknew wrote. "As we drove home he started telling me about other Mexican actors that he thinks should be in movies in America. Representation matters."
Riveralwaysknew told Mic that she had the idea to take her father after her experience watching the 2016 all-female Ghostbusters remake. She said that she remembers her father being self-conscious about his English when she was growing up. He often had to clarify what he said because people couldn't understand him.
"I felt like it was important for him to see a hero in a big blockbuster film who spoke with with confidence and yet had his accent," she said. "He was so elated. I mean, have you ever seen a 60-year-old Mexican man skip to his car? Because I have!"
Response to the post is almost unanimous: People are crying.
Riveralwaysknew's post echoes the phenomenon after Latinos all over the internet found out that Luna would keep his accent when the trailer dropped in August. In December, Luna told Latino music channel MVTO that he wasn't pressured to change his accent.
"I think the conversation was, 'This is my accent,'" Luna said.
As evidenced by the support of fans and by one elated father, Luna's accent has been a bright spot in a year that hasn't been great for Latino representation in film.
Riveralwaysknew described her father as "not an emotional person," which made his response to the film that much more special.
"To see him so excited about a movie and a character wasn't just new to me, it was memorable," she said.