Cat yoga is exactly what it sounds like — and it's glorious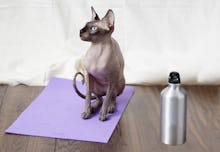 Good Mews, the name of a no-kill cat rescue center in Marietta, Georgia, has come up with a brilliant new way to bring in customers and make sure more people go home with their own ball of fluff: cat yoga. 
Yes, it's exactly what it sounds like. Customers participate in a yoga class where cats also roam free and, occasionally, participate. At any given time, your yoga mat could be covered in cats, which you will be encouraged to pet — and possibly even adopt and practice yoga with at home. 
Not only is yoga a great experience for human participants, it's also good for our feline friends. 
"You'd be amazed to see how much the cats love yoga," Nancy Riley, Good Mews Board of Directors and Marketing Chair, said. "As much [as] or more than humans!" 
If you're in the area, why not make good on those New Year's resolutions to get healthy and make more friends? You might even meet one you'll want to take home.