Coachella 2017 Tickets: How to get discounted, cheap and last-minute tickets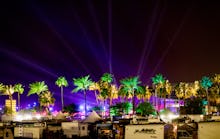 This year's Coachella is set to be a showstopper. With a lineup that includes artists like Beyoncé, Radiohead, Kendrick Lamar, Lorde, Gucci Mane and DJ Khaled — just to name a few — tickets for the 2017 festival are sure to sell out quickly. But don't worry, we've got you covered.
The festival is a two-weekend event running April 14, 15 and 16 and April 21, 22 and 23 at the Empire Polo Club in Indio, California. Tickets go on sale Wednesday, Jan. 4, at 11 a.m. Eastern and the prices range from about $530 for general passes to over $2,000 for VIP passes — and then there's also parking, camping and shuttle passes to consider. Admittance to the legendary festival doesn't come cheap, but there are still some deals to be had out there.
Below are the best places to find discounted, cheap and last-minute Coachella tickets. 
(Editor's note: Ticket prices are subject to change.)
Tickets: week one
TicketNetwork — $530
VividSeats — $541
StubHub — $550
TicketsNow — $577
Tickets: week two
VividSeats — $458
TicketNetwork — $459
StubHub — $475
TicketsNow — $511
Parking: week one
TicketNetwork — $196
VividSeats — $200
StubHub — $215
Parking: week two
TicketNetwork — $187
VividSeats — $190
StubHub — $205
Camping: week one
TicketNetwork — $223
TicketsNow — $231
VividSeats — $245
StubHub — $350
Camping: week two
TicketNetwork — $174
TicketsNow — $179
StubHub — $575
Shuttle: week one
StubHub — $49.99
VividSeats — $60
TicketsNow — $62
TicketNetwork — $67
Shuttle: week two
StubHub — $62.49
VividSeats — $68
TicketNetwork — $81
TicketsNow — $87