Philadelphia police are investigating incident where officer beats teenage girl on video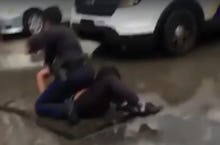 The Philadelphia Police Department is investigating an incident where video footage shows a police officer throwing an African-American teenage girl to the ground and punching her, according to the New York Daily News.
The incident took place Monday near the intersection of 54th Street and Springfield Avenue in the southwest side of Philadelphia. The video of the incident, uploaded by Instagram user hostgodawezome and Facebook user Arthur Alexander, shows droves of people fist-fighting on the street. Two police officers are seen trying to break apart the fight. One officer, a woman, begins pushing back an unidentified teenage girl before panning to another group of people brawling. 
The camera then shows the female officer judo-throwing the teen to the ground before mounting and punching her in the face.
"The 16-year-old defendant involved in this incident was interviewed in the presence of her guardian and informed investigators that she attempted to interfere with officers as they were attempting to arrest one of the individual engaged in the fights," a spokesman for the Philadelphia Police Department told Mic in an email.
The department also said the teenager slapped the officer, knocking the glasses off her face before being thrown to the ground. The department also did not release the name of the officer.
"Both the defendant and the officer stated that the defendant struck the officer in the face knocking her glasses off of the officer's face, breaking them," the spokesman said. "At that time, the officer began to struggle with the defendant and grabbed her by the hair, taking her to the ground. Both the officer and the defendant indicated that they both threw punches, striking each other while on the ground."
The videos uploaded on social media do not show the moment where the girl allegedly slapped the police officer.
The Philadelphia Police Department also said the teen was treated for neck pain at the Children's Hospital of Philadelphia. She has also been charged with assaulting a police officer.
Takeema Bundy, a witness and a friend of the victim, said about 30 people were involved in the fight. She also said the teenager had recently lost her mother and has been dealing with personal issues.
"I just feel like she didn't deserve it," Bundy told local television station WCAU. "She lost her mom. She don't got nobody and I feel she was there for me and look where she's at."