'Overwatch' 2.02: Oasis map traffic can be used to charge Zarya's shield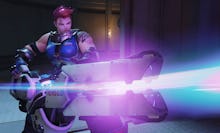 The latest Overwatch patch update, version 2.02, added a gorgeous new control point map called Oasis. Though it's only been out a short time, players had already been testing it for several weeks on the public test realm. In that time, they've found some cool exploits, one of which will let you do some extra damage as Zarya right off the bat.
Overwatch version 2.02: Use Oasis traffic to your advantage
The Oasis map introduces a new hazard: traffic.
Though it kills you instantly on impact, you can also use it to charge up Zarya's shield on your way to the control point and do more damage on your first encounter with the enemy team.
The key seems to be to carefully position yourself so the shield just barely glances against the car, but it seems worth the risk. Doing it successfully charges Zarya's weapon up to 40 instantly. 
Here's a video of it in action:
More Overwatch news, updates, tips and tricks
For more on Overwatch, check out the rest of what Mic has to offer. Here's a roundup of the best Overwatch plays of the week, our definitive ranking of every Overwatch hero, a giant Overwatch FAQ for beginners, the latest rumors of a Terry Crews-voiced Overwatch character, all the updates in patch 2.01, the fandom's reactions to the Zenyatta Nutcracker skin, a guide to all the hidden details in the Winter Wonderland event and a list of unlockable goodies you can earn for Overwatch's other characters.