Disturbing video catches North Carolina officer slamming black student to ground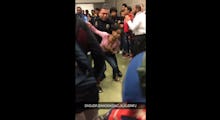 An officer in the Rolesville, North Carolina, police department has been placed on leave following a confrontation between two students which ended in the officer throwing a girl to the ground, ABC11 reported Tuesday.
In an eight-second clip posted online, a law enforcement official ABC11 identified as the Rolesville Police Department's Officer Ruben De Los Santos, picks up a black female student at Rolesville High and slams her to the ground. He then drags the girl off the ground by her arm and marches her out of the cafeteria. De Los Santos is now on administrative leave.
Another bystander video posted by the News & Observer contained more footage of the student fight, as well as a different angle of the body slam. Rolesville Police Chief Bobby Langston told the paper "We will work diligently to review any and all pertinent information so that we provide an accurate account of the events. We ask the community and all members involved to be patient while we investigate this matter."
In phone message to families obtained by the News & Observer, Rolesville High School Principal Dhedra Lassiter said Wake County security "is currently in the process of working with the Rolesville Police Department to gather all of the details about the incident to ensure that appropriate action is taken." She added "I, like many of you, am deeply concerned" in another letter to the school community obtained by WNCN.
"This kind of force, especially with kids in schools, is never justified," ACLU North Carolina staff attorney Irena Como told the News & Observer.
In late 2016, another officer who violently threw a student, South Carolina's Spring Valley High School resource officer Ben Fields, was fired but not charged with criminal wrongdoing after videotape of the incident incurred widespread outrage.