Healthy breakfast recipes that'll actually keep you full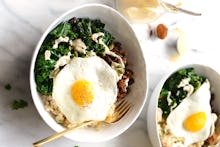 It's perhaps the most important meal of the day, but are you doing it right? 
Sure, a bowl of cereal — even organic cereal with hormone-free milk — may seem simple and easy, but when your stomach starts grumbling at your desk just hours after your last spoonful of granola, it can feel like eating breakfast was pointless. In December 2016, researchers at the University of Copenhagen in Denmark concluded that eating plant-based protein for the first meal of the day is key to staying full longer. 
Legumes such as beans and chickpeas, which are high in both protein and fiber — and low in calories and fat! — will satiate savory cravings in the morning and keep your stomach happy until lunchtime. Ready to make a breakfast that will actually keep you full? Check out the recipes below. 
Chickpea, yogurt and egg
This incredibly simple-to-make and savory breakfast parfait is loaded with protein — try adding whole wheat toast on the side for some extra fiber. Get the recipe here. 
Chickpea avocado breakfast enchiladas
Bye, avocado toast. These avocado-and-chickpea-stuffed tortillas may make a repeat appearance at lunch if you're hungry — they're that good. Get the recipe here. 
Make-ahead breakfast quesadilla with cheese, spinach and white beans
Make a big batch of these bean-filled quesadillas and keep them in your freezer for busy mornings when you need a filling breakfast in minutes. Plus, they're easy to eat on the go! Get the recipe here. 
White-bean breakfast hash
Sub out potatoes for fiber-and-protein-filled white beans that still have some good starchiness. Get the recipe here. 
Jumbo chickpea pancake
If pancakes get you going in the morning, switch it up with these vegan, protein-packed chickpea flour pancakes that can be made both savory and sweet. Get the recipe here. 
One-pot chickpea shakshuka
Sub out the traditional baked-egg shakshuka for some chickpea-and-bean-packed vegan shakshuka you can make in a single skillet. Get the recipe here. 
Mushroom and garbanzo-bean toast
Sub out avocado and cheese for veggies to start off your morning on a healthy, fiber-filled note. Get the recipe here. 
Chipotle black bean and rice skillet
Rice for breakfast?! This hot skillet isn't your average Rice Krispie bowl — it's savory and easily serves a crowd. Get the recipe here. 
Black bean breakfast bowls
If you're a bowl lover, this black-bean-based bowl with kale and a fried egg will seriously start your morning on the sunny side. Get the recipe here. 
Slow-cooked pesto chickpeas over toast with smoked salmon and egg
Switch out the bagel and cream cheese for tender, flavorful chickpeas served on toast and adorned with smoked salmon and an egg. The breakfast sandwich finally has on open-faced, filling competitor! Get the recipe here. 
10-minute white bean artichoke basil toasts
Up your game with this easy breakfast toast, covered in white beans and greens to fill you up tastily. Get the recipe here.