Soulja Boy's phone seemingly snatched live on Instagram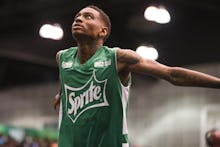 Recording artist Soulja Boy, who is currently fighting an absurd beef with hip-hop artist Chris Brown over an Instagram like, was confronted by a man while streaming on Instagram Live on Tuesday evening.
According to Uproxx, Soulja Boy was taunting Brown using the app before getting in some sort of physical confrontation with another man present on the street. Soulja Boy's phone ended up on the ground, a scuffle ensued, and the video ended with another man who was clearly not Soulja Boy holding the device while smirking directly into its camera.
"They say Soulja ain't from the hood!" the rapper can be heard saying before losing his phone.
Another video posted by DJ Akademiks, who the Daily Dot dubbed "hip-hop's one-man TMZ," allegedly showed that Brown posted a video picturing the same man who confronted Soulja Boy to his own channel.
As Mic's Tom Barnes reported, the Brown beef is just the latest in a serious of feuds Soulja Boy has recently attempted to start, with other targets including Lil Yachty, Quavo and even actor Shia LaBeouf.
Twitter users largely mocked Soulja Boy, while others expressed disbelief the incident wasn't part of a strategy to score free publicity. A few expressed concerns for the rapper's safety.