Omarosa, former 'Apprentice' star, reportedly joining Donald Trump administration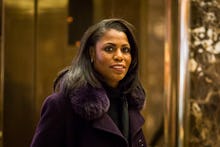 Former The Apprentice star Omarosa Manigualt is set to join President-elect Donald Trump's administration, the Associated Press reported. 
According to the AP, Manigault, who worked as director of African-American outreach during Trump's campaign, will have a job involving public engagement.
Trump fired Manigualt from The Apprentice in 2004, where she was depicted as a cutthroat villain. The Apprentice wasn't the only job Manigault was fired from, however.
As People reported, Manigault worked in the White House during President Bill Clinton's tenure as president — but was let go from four different positions. "She was asked to leave as quickly as possible, she was so disruptive," a source told the magazine in 2004. 
Manigault made several appearances on The Apprentice after her departure, and has maintained a friendship with Trump throughout the years.